One minute you're climbing in a sunny thermal, singing your favourite Madonna song out loud – who can hear after all? – and then the next: Bam! You're in the wispies and in danger of being sucked into the white room.
Like something from a George Orwell novel this is a place of fable. Not everyone who goes in comes out again.
But there are guidelines and rules of thumb to help you fly safely near cloud, and we've rounded up a gaggle of three top pilots to help you navigate your way around the tricky subject of flying and cloud.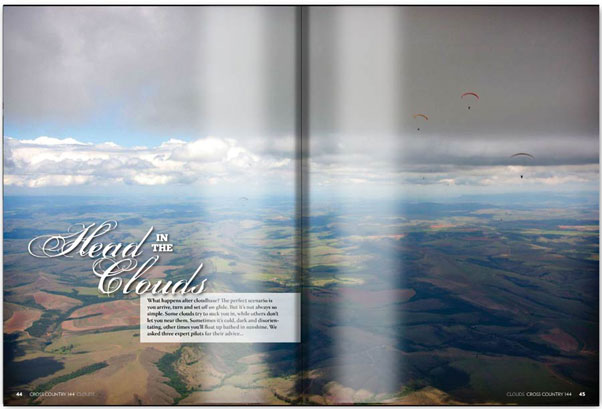 Adrian Thomas is a regular contributor to Cross Country magazine. Twice British Paragliding Champion he also has the good-teacher's knack of explaining things logically and clearly.
Olympio Faissol is a flatland expert from Brazil. He flew two 400km flights in one week this October, and regularly clocks up thousands of XC kilometres a year. Eschewing competitions for open distance, he too is generous with his time and knowledge when it comes to helping other pilots learn.
Kelly Farina is a well known guide based in the Austrian Alps. A former competition pilot and British Team member he is now a fan of high-end EN B gliders on which he regularly guides groups through big terrain on long XCs.
Together the three of them cover every aspect of flying and cloud. From how the '45-degree rule' works to why getting your wing wet is a bad idea.
'Head in the Clouds' is the cover feature of Cross Country issue 144 (Nov/Dec), and with great photography and several thousand words of genuine wisdom it's this issue's essential 'How-To' article.
Read it in full in Cross Country issue 144.
---
• Got news? Send it to us at news@xccontent.local
Never miss an issue
Our subscribers receive 10 issues a year, the annual Travel Guide and exclusive access to competitions and offers
Subscribe today