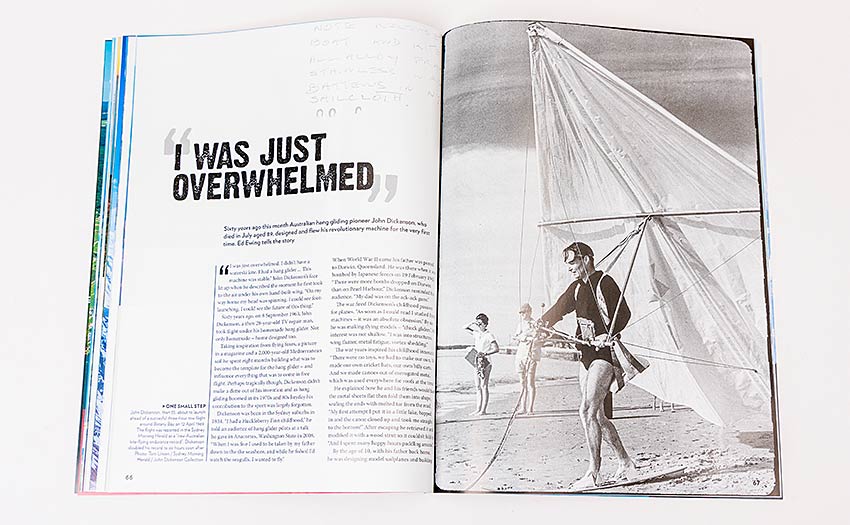 Cross Country is a reader-supported publication. That means we want the pilot community to tell us about what is going on. Here's how you can contribute:
What subjects do you cover?
Paragliding
Hang gliding
Paramotoring
Speed riding / Speed flying
Miniwings
Powered hang gliding
Amazing aerial things: wingsuits, balloons, powered rocketmen, ancient Greek gods flying close to the sun
Got a press release?
Send it to us at news@xcmag.com Include high resolution images as jpgs. If it is date-sensitive, tell us when it's for. We won't publish it before you want it to be.
Got a competition report?
Send it to us at news@xcmag.com
Remember to tell us:
Who was involved
What the event was
Dates of the event
Links to blogs and results
What happened, including winners and other notable flights
Where it was
Your contact details
Send high resolution jpgs or RAW files – and tell us who is in them, and who took them. Please don't photoshop them. Please only send us your top 10.
Got a feature idea or been away and want to write about it?
Email Ed the editor: editor@xcmag.com
Tell him in a few lines who you are, what you've been up to, and why you think we might be interested. Tell him about the photos you have too. He will get back to you.
Not all feature ideas make it into the magazine, but lots do. Try us!
Got content you'd like us to share on social media? 
Email us at news@xcmag.com and let us know what it is and why it's great!
Send us a download/Dropbox/WeTransfer link for video or images
Be explicit about what you are hoping to achieve, and any dates
I'm a photographer and have a great set of images. How do I send them to you?
We'd love to see them. You can send big batches of files to us by WeTransfer or we have an FTP account – ask for the details. DropBox works too. Or just send us a link to your site or gallery. Email editor@xcmag.com
Please don't send us screengrabs from video, or low resolution phone photos. We are looking for high quality, high resolution photography.
Confused about digital resolution?
There are lots of tutorials online. The key is to understand that we need images that work in print as well as digital. You can't take a low-resolution screengrab from GoPro footage or a 1mb Instagram image and turn it into a high quality image that can be used as a Gallery shot or on the cover. Please send us high resolution photos where possible, thanks.
Want to review gliders for us?
Sorry, these are all done in-house.
Content marketing
We understand that lots of pilots and manufacturers create images and stories to promote their products, their partners or the brands they work with. We are happy to look at this type of content so long as there is a strong editorial-first story to it. We won't use it if it has been published before or used as part of a marketing campaign.
Acceptance
We ask for English-language exclusivity for 12 months. After that we're happy for you to post your work online, sell it to other magazines, give it away etc.
Because of the way we work it may be some time before you get a reply.
Issues
We publish eight issues a year. When your article is accepted we will let you know which issue it will appear in.
Do we pay for articles and photos?
Yes, but we won't make you rich. But it should buy you dinner. For a six page article we pay around €300.
How long should my article be?
For travel, adventure and destination articles, 1,500-2000 words, with 20-30 well chosen photos is perfect for us.
For photo essays, select 30 or so photographs that tell a story and send us those. We will then ask you for captions.
What's the secret of getting published in Cross Country magazine?
Quality, originality, great photography that tells a story or makes you stop, brilliant writing that talks to the heart of what we do.
You don't have to have flown the Karakoram for us to be interested – a well written, original, thought-provoking article about a weekend flight from your local site can be just as powerful.
Amazing images always have a place: please send them in.
I'd like to write a book about flying and am looking for advice – are you interested in publishing it?
We'd love to hear from you, yes. But books are easy to start, hard to finish. They take a lot of personal discipline. The thing to do if you are serious is to know where you are heading and to have a map. The best map is a Chapter Plan. This is literally a plan of the chapters – a chapter title and a few lines of text or bulletpoints explaining what you want to cover and why.
Put an estimated wordcount against each topic. You are aiming for at least 55,000-60,000 words for a book.
As well, on a separate page, describe in a few paragraphs exactly what this book is about, and why you are writing it. Explain how it will be illustrated. Write down who it is for, who is your audience? Also say why you are the best person to write it. Then look around and see if anyone else has done anything similar.
Work on a chapter plan for a week. Put it aside for a week or two. Come back to it and work on it again. It's the key! It's like making sure your walls are dry and clean of dust before painting – it's actually one of the most important parts. It makes you think and it makes you get organised. If you don't get anywhere with your chapter plan the chances are you don't have an idea worth a book. But if you can write a good chapter plan, you can do a book!
If you have done the above and you are convinced your idea stands up, get in touch with us at editor@xcmag.com and pitch!
Many thanks for dropping by – we hope to see you in the magazine soon.