Jim Mallinson knows a thing or too about flying. The flying fakir's favourite haunt is the Indian Himalaya, where he has flown regularly for the past decade. A pilot for 17 years his home is in the rolling flatlands of southern England.
The perfect pilot then to take UP's latest weapon for a spin. UP have pitched this glider at the 'classic' EN D pilot. That's someone looking for high performance without stepping into competition wing territory. The fact that it conforms to the EN C category is a bonus for those pilots then, and not really a green light to pilots stepping up to the EN C category.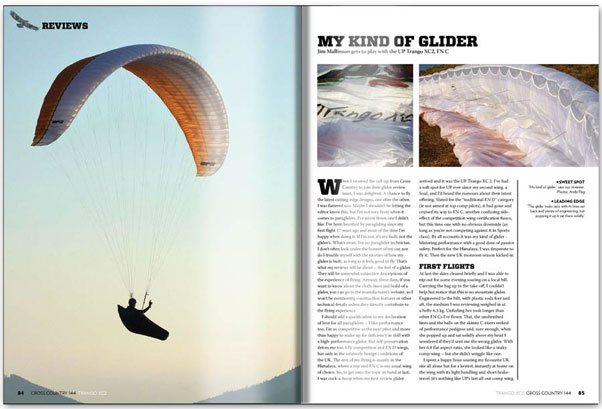 That understood, in issue 144 of Cross Country Jim takes the Trango XC2 on holiday to France, where he sneaks in an out-and-return during a heatwave before heading back to the calm of southern England. We say calm, what we actually mean is windy, blown-out fields, or becalmed hillsides.
Jim makes use of the new glider's speed to cut through the gaggle and fly a triangle above a 5,000-year-old stone age circle. The glider "reeks of performance" says Jim in his write up, who was impressed.
Read his full, four page write up in the Nov/Dec issue of Cross Country magazine.
---
• Got news? Send it to us at news@xccontent.local Subscribe Home
Never miss an issue
Our subscribers receive 10 issues a year, the annual Travel Guide and exclusive access to competitions and offers
Subscribe today