Sol have released a new LTF/EN-B paraglider, the Cyclus One. They say it's a versatile wing for talented beginners and cross-country pilots. 
Sol use their own in-house design software which they say is constantly updated as they learn. With the Cyclus One the focus was on stability and glide. They say it's a comfortable and predictable wing, and a good thermaller. It's compact, with 47 cells (of which six are closed) and an aspect ratio of 5.23. A sharknose profile and reduced overall line usage have improved performance.
Sol say:
"Its higher aspect ratio allows a more precise piloting both to active pilots who like to use the body, as well as to passive pilots who prefer to act using the brakes. This characteristic allows a great performance in weak and strong thermals, while stability is maintained".
Other characteristics include long brake travel, precise handling, high internal pressure, relaxed behaviour in extreme conditions and its easy launch, "even in nil wind".
Materials-wise, it's made from Sol's silicon-coated WTX40 and WTX29 fabrics on the top surface, with WTX29 underneath.
The Cyclus One is available in five sizes, XS (65-80kg) to XL (105-125kg), and weighs between 4.1kg and 5.4kg. There are two standard colours – red or blue – or custom.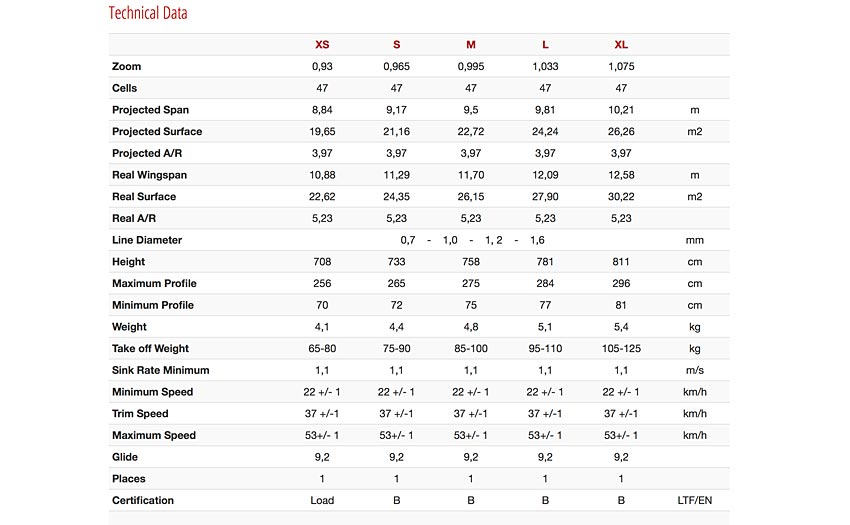 Never miss an issue
Our subscribers receive 10 issues a year, the annual Travel Guide and exclusive access to competitions and offers
Subscribe today