No fuss, just finesse. Hugh Miller flies this lightweight pod
It's clear that Woody Valley have made a very, very impressive harness here. Out of the box, the GTO Light comes in its own lightweight rucksack, with a superlight concertina and compress bag stowed away for your wing too – a nice touch.
Opening it up, the geometry and set-up has much in common with the X-Rated 7, though of course it is a much, much lighter package, with thinner webbing and materials throughout. Including karabiners, we weighed the L size at 3,025 grams.
Together, the bag and concertina bag weighed a ridiculously light 900 grams. That makes the total package only a smidge over 4kg with the reserve container. You wouldn't happily chuck the bag on the carousel at an airport, but it seems really comfortable for hike-and-fly.
In terms of rucksack volume I could fit in my SM standard-fabric, non-compressed Queen 2 wing, plus the harness, without much bother.
Clipping in
Clipping in is just as per the X-Rated 7 with minimal fuss. The normal buckles make things nice and quick, and it reminded me of the Lightness 2. Yes it's light, but it's much more highly functional and akin to an everyday harness than say the Ozium 2 or of course the super-light Skywalk Range X-Alps2.
Much of the weight seems to have been saved by the use of elastic polyester finished with black polyurethane for the pod – new materials to me in harness construction.
In terms of geometry, I felt straight from the first hang that the GTO Light gave better leg support. I spent ages fiddling with the settings to get my X-Rated 7 sorted so that I didn't have to push with effort against the footplate.
The Woody Valley GTO Light's geometry gives better support – similar to the Forza. The back feels snug, and the narrow seatplate is coupled with a stiff rod on either side to add rigidity. I say seatplate – opening up an internal zip reveals you're actually resting on the very rigid top surface of the back protection – but it feels just like one when you clip in.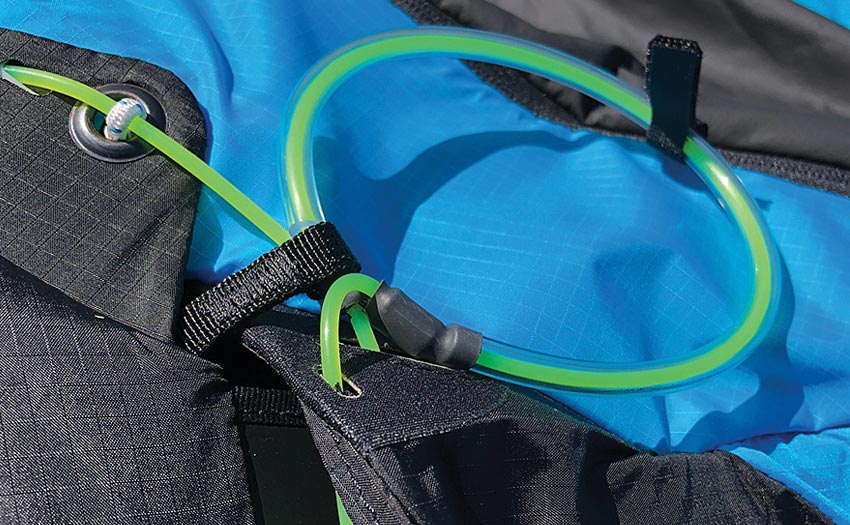 The reserve deployment system looks better sorted than the X-Rated 7, too. I found the zips kept splitting open with the race harness, requiring rigorous pre-flight checking. The GTO Light has done away with zips and uses plastic wires instead. Of course, there's only one reserve pod, and there's only just room for a lightweight drogue chute in the front container.
The instrument mount is an OK size – it could do with being 2-3 cm taller – but it fits an Oudie, Flymaster and a small smartphone, at a squeeze. Storage is good – there's a massive back compartment, plus under-seat ballast pocket with a further 7-8 litres of capacity.
Of course, the stand-out feature is the aerodynamic fairing, which gives a beautiful, slip-streamed appearance, and will add performance on high speed glides. It's not quite as long as the X-Rated 7's, but equally there are no solid plastic tubes to break either – Woody Valley have repeated the simple trick of their semi-rigid air inlets as before.
In the air
In the air, the comfort is fantastic, reminding me again of the Lightness 2. Roll response is average to good – not too tippy, not too bouncy. There's a good locked-in feeling, with no obvious pressure points. The lack of seat plate means there's a snug fit from your feet right through the small of your back and up to your shoulders. Woody Valley say there is 'motorcycle style' back protection higher up the back to give better support.
On glide, I've been told by designers that a rear fairing helps with yaw stability: it keeps the harness shuttlecocked firmly into wind. When you first push bar you are of course doing so with just one leg, and on some hammock pods, this can contribute to the pod yawing left or right of centre, making the glide far less efficient. On the Woody Valley GTO Light I found it stayed straight and true, so I wonder if the fairing does help in this regard. Picking up the speedline with my foot, I did worry if the abrasion might work away at the material – but time will tell.
Overall, very impressed! I've been looking for a light harness with a fairing for ages – it seems brands have been a little slow to cotton on to the huge potential for this market segment – and Woody Valley look to have nailed it first time.
IN BRIEF
Woody Valley say: "Woody Valley products are total connection systems between pilot and wing"
Use: XC
Pilot level: Experienced pilots, pod harness
Sizes (cm): S (158-172), M (169-181), L (178-190), XL (184-198)
Harness weight (kg): 3kg (L)
Price: harness €1,180; rucksack €115; concertina bag €52.50; total €1,347.50
Hugh Miller is an XC addict and regular reviewer. He flew the Woody Valley GTO Light for several hours in classic UK summer cross country conditions