Ozone's LiteSpeed is a versatile lightweight miniwing, bridging the gap between lightweight paragliders and speedriding wings.
You'll find it in the speedriding section of Ozone's website, though they summarise it as a miniwing for use in a wide range of conditions, from hike-and-fly to soaring. It is intended for intermediate pilots upwards, its speed and dynamicism increasing with wing loading.
The LiteSpeed's design started as a lightweight Zero, but the final model is quite different Ozone say. It's easier to launch, has improved sail tension and a more agile and dynamic feel. Like the Zero, the LiteSpeed has a Sharknose profile, which Ozone say means good performance at a wide range of angles of attack:
Combined with the LiteSpeed's trim and speed system, the result is a large, fast and solid useable speed range with high levels of stability at low angles of attack, along with improved stall / spin resistance at higher angles of attack.

The SharkNose aides every aspect of the design with improved cohesion, handling, speed and glide performance. The end result is a unique, high-performance miniwing that remains accessible and easy to use.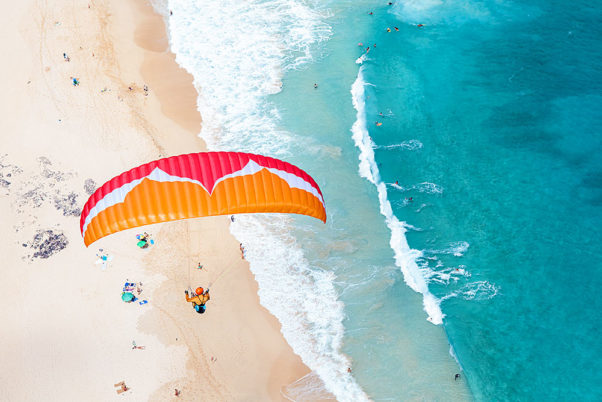 Constructionwise, the LiteSpeed is made from ultra-light Porcher Skytex 27 and Dominco N20D fabric, and it's available with either light (8mm) or standard (12mm) riser sets, with both trimmers and a speed system available.
Available in three colours and three sizes, it weighs just 2.1kg (15m size), 2.3kg (17m size) or 2.5kg (19m size).
---
• Got news?
Send it to us at news@xccontent.local.
Subscribe to the world's favourite hang gliding and paragliding magazine home
Never miss an issue
Our subscribers receive 10 issues a year, the annual Travel Guide and exclusive access to competitions and offers
Subscribe today