Ozone have announced their much-anticipated new two-line EN C paraglider will be called the Photon. It will be revealed at the Stubai Cup in Austria in March.
In an email Ozone said: "The Ozone R&D Team has been working hard on this project for nearly two years and we are pleased to announce the imminent release our new two-liner EN C wing the Photon (previous working name Aura). It will be presented at the Stubaï Cup on the weekend of 3-5 March, 2023.
"During the Photon development we focused on the true performance of the wing which for us, as always, encompasses the practical usability and comfort of the glider from launch to landing in real XC conditions. The handling, stability, and ease of use for the category are as important to us as the performance numbers."
They added: "All of Ozone's know-how in two-liner designs has gone into this wing and puts it into a category of its own. Speed and glide are both comparable to many popular EN D wings. The performance of the Photon is not far below that of the Zeno2 in terms of glide ratio while its collapse recovery behaviour places it solidly in the EN C category.
"We realise this has been a long-awaited and much talked about-design, and we really look forward to seeing pilots all over the world enjoy this wing. It will be possible to place orders as soon as the wing is officially released, with shipments probably around 30 days later."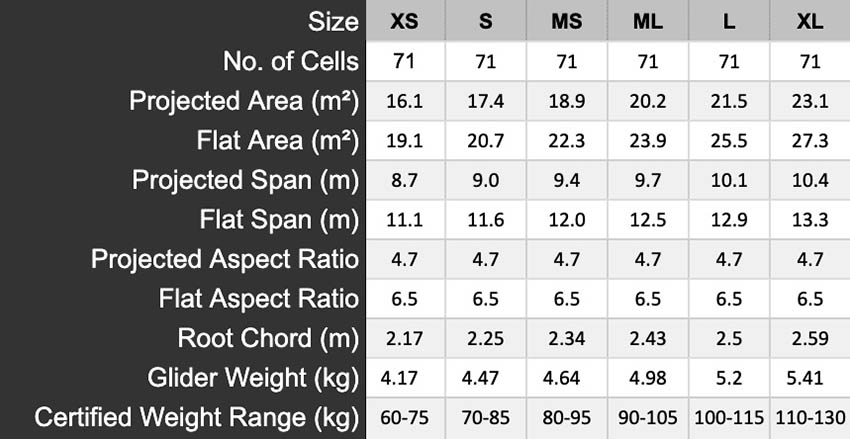 Ozone said they are planning six sizes, to cover a weight range from 60 to 130kg. The glider will have 71 cells, a flat aspect ratio of 6.5 and will weigh between 4.17 and 5.41kg depending on size. No details of materials to be used have been released yet.
Notably the glider appears to have winglets – Ozone have been experimenting with winglets for a while and feature them on their new beginner's wing, the Moxie (EN A). Although no details about the winglets on the Photon have been released, for the Moxie Ozone say: "It is hard to overstate the benefits of this simple add. They are a win-win feature, yielding significant improvement to spiral and roll stability at no cost in performance – increasing both safety and handling, with no downsides."
The Photon is expected to fit above the Delta 4 (EN C) and below the Zeno 2 (EN D) in terms of pilot demand.
According to the release the first pilots should be flying the new Photon by mid-April, in time for the best of the European spring conditions.