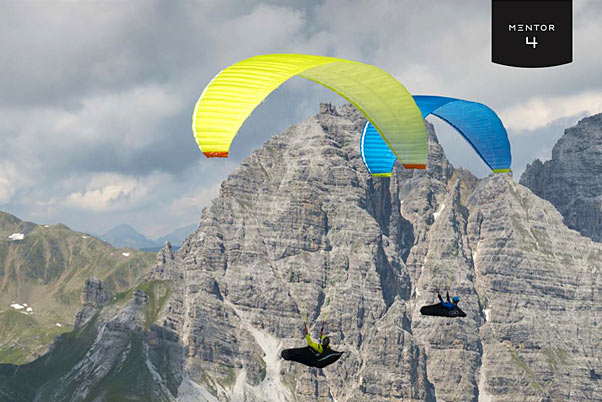 Nova are to unveil the new Mentor 4 at the Coupe Icare 2014, which starts Thursday 18 September at St Hilaire du Touvet. The wing is for intermediate cross country pilots, and certified EN B in five sizes.
Nova say its performance is better than the Mentor 3 by half a glide point across the polar curve, and it offers refined handling in thermals, balanced roll damping and even better climb characteristics.
A weight conscious design, it's lighter than its predecessor. Nova explain,
Everything that is not exposed to a high mechanical load has been manufactured using moderately light material (Dominico 20D), except the profile nose which is made from abrasion resistant cloth. The result is a wing that is significantly lighter, but at the same time more durable, than its predecessor. A side effect of the reduced canopy weight is higher passive safety – and it is suitable for hike & fly.
Along with the new wing, the company have a new company logo.
Download a PDF with more info on the Mentor 4, here
---
• Got news? Send it to us at news@xccontent.local.
Subscribe to the world's favourite hang gliding and paragliding magazine