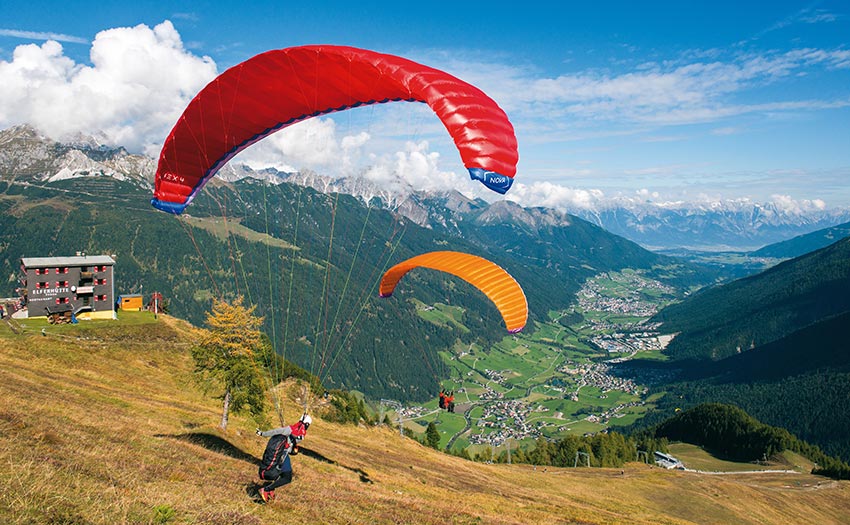 The latest version of Nova's mountain wing, the Ibex 4, is certified EN A in four sizes with wide weight ranges.
Nova say it's safe and easy to handle but it glides better than a Prion 3 (which Robert Schaller flew a 209km FAI triangle on). The Ibex 4 is a three-liner with 36 cells and an aspect ratio of 4.63. It suits a range of flying styles including hike-and-fly, travelling, recreational flying, mountain adventures, soaring and XC. "It's popular on the training slopes", they add.
The Ibex 4 comes in four sizes (18m², 21m², 23m² and 25m²), weighing 3.0kg to 3.75kg across the sizes. Nova say it is compact and homogeneous with great handling, and while its behaviour changes with wing loading, offering what they describe as 'relaxed', 'standard' or 'dynamic' characteristics, it is EN-A certified throughout.

A whole new design, the fourth-generation Ibex is Nova's first wing to feature diagonal tape ribs. "These ensure a cleaner aerofoil and a more stable canopy", they explain, and account for its increased performance.
It's made from 27g and 32g Skytex and comes with narrow webbing, rather than Dyneema, risers, and all-sheathed lines which are easier to handle. It is delivered with Nova's waterproof Compression Bag and covered by their comprehensive guarantee.
The Ibex 4 will be available for test flights from mid-February 2018.
Never miss an issue
Our subscribers receive 10 issues a year, the annual Travel Guide and exclusive access to competitions and offers
Subscribe today