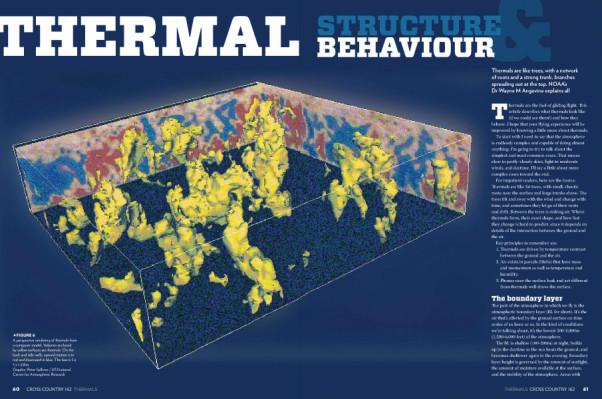 Thermals are the fuel of gliding flight, but there's more to them than just a load of hot air. Dr. Wayne Angevine from the National Oceanic and Atmospheric Administration explains.
He likens thermals to fat trees, with small chaotic roots near the surface and large trunks above. Between the trees is sinking air.
The trees tilt and sway with the wind and change with time, and sometimes they let go of their roots and drift.
Where thermals form, their exact shape and how fast they change is hard to predict, since it depends on details of the interaction between the ground and the air.
Read the science behind the these tree-like columns of rising air, what they look like, how and where they form, and why some of the myths we may have based our perceptions on are just not so, in Cross Country 161 (July 2015).
---
Cross Country is a reader-supported international publication and is available through subscription only. We publish 10 issues a year in print and digital. Subscribe to Cross Country.
Never miss an issue
Our subscribers receive 10 issues a year, the annual Travel Guide and exclusive access to competitions and offers
Subscribe today