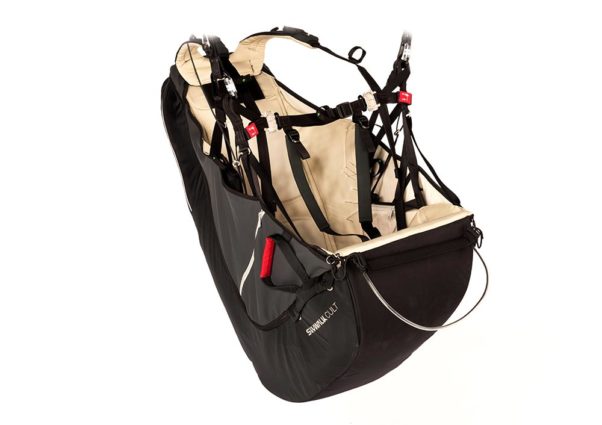 Skywalk's new Cult 4 is an all-round paraglider harness. They say it's an uncomplicated design with lots of inbuilt safety features.
It weighs less than 4kg, but Skywalk say it's made from high-quality and robust materials to ensure a long-lasting product.
A new load-distribution frame ensures the pilot is always well supported, and Skywalk say that with its many adjustments it fits "like a tailor-made backpack". In the air, tabs marked '+' and '-' allow the pilot to stabilise the Cult 4 for additional comfort in rough conditions, or loosen it off when dynamic soaring and high wingovers are the order of the day.
Safety features include an under-seat mousse bag, a back foam pad and two side protectors. It also has built-in RECCO radar technology. These lightweight sensors add little to the harness weight, but greatly increase a pilot's chances of being found quickly by professional search teams in the event of an accident.
Skywalk have also added a SAR loop, which was developed with input from the Bergwacht — the German Mountain Rescue Service. The loops are clearly marked and in the optimal position for attaching a winch to in the event that an air rescue is necessary.
Safety Sliders — plastic caps that prevent the buckles from opening accidentally – complete the safety spec.
The Cult 4 will be available in threesomes and three  colours: Coal (above); Chocolate; and Navy (below).
---
• Got news?
Send it to us at news@xccontent.local.
Subscribe to the world's favourite hang gliding and paragliding magazine home
Never miss an issue
Our subscribers receive 10 issues a year, the annual Travel Guide and exclusive access to competitions and offers
Subscribe today