Hugh Miller is like a kid in a sweetshop when he gets his hands on Air Design's Volt, the EN C glider pitched at experienced XC pilots. First those "tricked-out" risers: what are those gobstoppers on the rear risers? Aha! They're for rear-riser control! He loves that and takes his glider high above the ground to the start of a 50km cloud street to give them a right proper work out.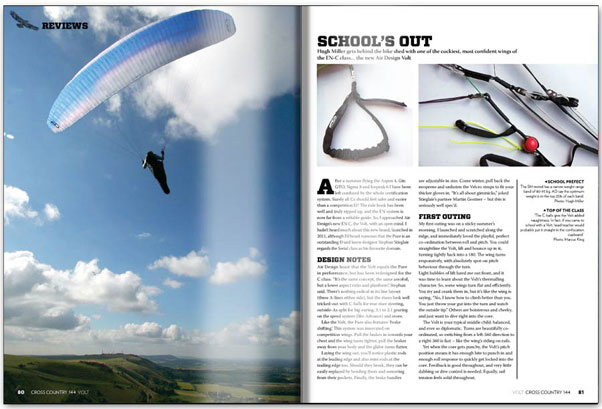 Between light lift, scratching on a sticky summer's morning and climbing through punchy cores he comes to various conclusions about the Volt. One, this much fun shouldn't be allowed anywhere else but behind the bike sheds at school; and two, that doing SIV manoeuvres high above the ground is fun, but he's getting on a bit for all that business now.
Read Hugh's full four page review of the Volt in the issue 144 (Nov/Dec) of Cross Country.
---
• Got news? Send it to us at news@xccontent.local
Never miss an issue
Our subscribers receive 10 issues a year, the annual Travel Guide and exclusive access to competitions and offers
Subscribe today