When is it the right time to step up? Matt Warren takes on Ozone's new lightweight EN C
"Oooooh… Niiiiiice!" They say that first impressions count – so when that one word, prefaced with an "Oooooh" and elongated for added effect, popped into my head the moment I took to the air under the Alpina 3, it was love at first flight. The only question was: would it last?
Launched earlier this year, the Alpina 3 is the latest incarnation of Ozone's lightweight EN-C "XC machine" – their Delta on a diet. A kilo lighter than the Delta 3, Ozone describe the Alpina 3 as a "fully optimised high-performance lightweight wing with a powerful feel in active air."
I prefer the crisper, livelier feel of lightweight wings and have spent the last two years flying Ozone's Swift 4, the Alpina's high-B baby brother and the lightweight incarnation of the very popular Rush 4 (EN B). Soon to be replaced by the Swift 5, the 4 is a beautiful wing. It kept up with most of the EN-Cs at this year's Ozone Chabre Open, and its passive safety is good for the blood pressure when you're trying to launch off a craggy summit in a crosswind on a hike-and-fly trip. If I had a pet cat, it would be a toss-up between which I'd save in a house fire.
So why move up to an EN-C at all? It's a question every pilot on an EN-B should ask themselves before they make the switch. In my case, I'd done 150 hours on the Swift 4 and felt ready to trade some passive safety for the extra poke and glide an EN-C can offer. I also wanted a wing with a more precise, agile feel in the air; something that would perform better during cross-country flights – but also offer an extra gear of fun. With all this in mind, the Alpina 3 seemed the obvious choice.
On paper, it doesn't look like too great a leap. The Swift 4's 57 cells become 66 in the Alpina 3, while the flat aspect ratio shifts from 5.55 to 6.0, still pretty moderate for an EN-C. In the ML size, the Alpina is ever-so-slightly heavier (at 4.5kg) and the plastic reinforcements in the wing are substantially longer, which means it needs to be packed with a little more care – don't leave it scrunched up in a hot car. It's also relatively pricey. In the UK, the Alpina 3 costs around £500 more than the Delta 3 – a difference largely accounted for, Ozone claim, by the lighter but more expensive 27g Porcher cloth used to make it.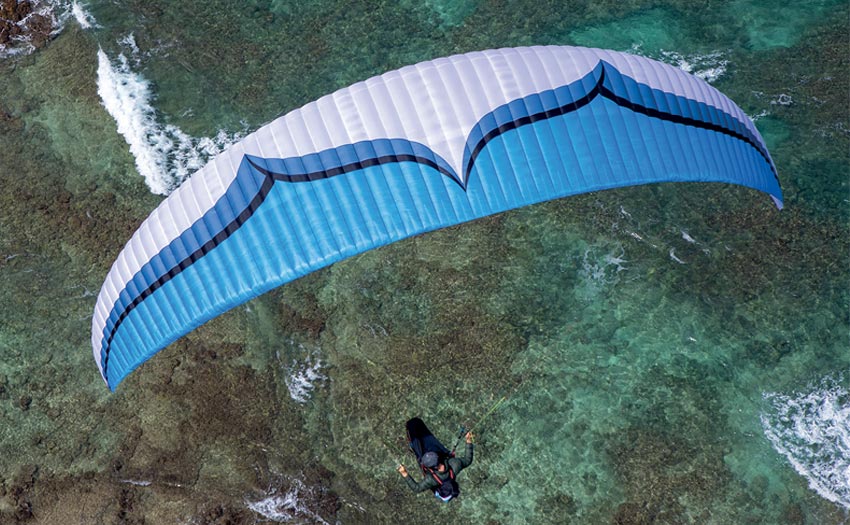 On the ground
Out of the bag, the Alpina 3 clearly is a well-made glider. It features Ozone's trademark SharkNose technology, improved 3D shaping and, according to the manufacturer, has a faster top speed ¬– and better glide – than the Alpina 2. The risers are narrow but manageable, and the brakes, which are held in place with dyneema line rather than bulkier webbing (it's all about slashing drag and something you will also find on their latest full-fat wings) can be secured with poppers. There are handles on the C-risers so you can steer without the brakes. 
On the downside, the largely unsheathed lines are all in the same shade of red, which can cause eye strain – and a salvo of X-rated language – if you end up in a tangle, but they're lighter than the alternative and create less drag. A price worth paying on balance.
Once clipped in, the Alpina 3 behaves beautifully on the ground. Lighter wings tend to be a little more of a handful in strong winds, and the Swift 4's wingtips were sometimes a little too keen to fly in blowy conditions. I had no such trouble with the Alpina. In wind, it comes up straight and even, without snaking, while in lighter conditions, the glider's light weight is an advantage. It reverse launches in the gentlest breeze and I had no problems forward launching from a snowy mountainside with a 5km/h tailwind.
In the air
But what about in flight? When I asked Ozone test pilot Russell Ogden what the main difference between the Swift and the Alpina would be in the air, he told me: "The Alpina is more precise, so requires less brake input for the same turn radius. It is also more responsive in yaw so it has the ability to turn tightly whilst staying above the head without diving in the turn. This is a characteristic we like and one that is very good for climb rate."
At 95kg all up, the ML size (85-105kg) feels about right – and is where in the weight range Ozone did most of their development flying. For optimal cross-country performance, 98kg is likely ideal, while it can get a bit floaty and sluggish if flown below 90kg. I forgot my ballast bag on one strong day and felt noticeably less stable in the air. 
If you're looking for a lightweight glider like the Alpina 3 because you're keen to get into vol-biv flying, it's worth considering carefully which size to get. It needs to be big enough to fly with all your camping equipment, but not so big that you're ridiculously underweight when you leave your tent and sleeping bag at home. At 80kg naked, the ML (85-105kg) is the most versatile size. I can fly light in weak conditions; in the optimal range on XC days with a few kilos of ballast; or fully loaded with all the kit for a proper vol-biv adventure.
Compared to the high-B Swift, the Alpina 3 offers substantially more precise handling in the middle of the weight range, especially in the first third of the brake travel. According to Ozone, it also "has even crisper, more agile, handling" than the Delta 3. When thermalling, this allows you to make smaller, more responsive adjustments, which help keep you right in the core.
It also gives you more feedback than an EN-B would. This can take a little getting used to, but if you're flying actively it's an advantage – you can better sense a collapse before it happens. In thermic conditions, the Alpina also feels like it is actively sniffing our lift. The wing tips bite into passing thermals and give a good indication of where and when to turn. In extremely light conditions, on the other hand, it has a ridiculous knack for staying afloat.
Fully accelerated, the Alpina 3 feels fast and solid. I was unable to measure the speed range scientifically, but it offered greater penetration fully accelerated than the high-B, with seemingly less impact on the glide. Big ears are stable with minimal flap, although one side stayed in on release and had to be pumped out.
In conclusion
The Alpina 3 is a wonderful glider, transferring all I love about the Swift 4 into a higher performance and more entertaining cross-country thermalling machine. Yes, it's expensive and the huge plastic reinforcements aren't ideal in a glider that's otherwise crying out to be taken on remote vol-biv adventures, but while the Swift 4 will be hanging around for a little while yet, the Alpina 3 has otherwise consigned it to the closet.
Sorry Swift, the Alpina 3 is just too "niiiice"! 
MANUFACTURER'S SPECIFICATIONS
Ozone say: "A fully optimised high-performance lightweight wing with a powerful feel in active air."
Use: XC paragliding
Pilot level: Advanced-intermediate / Sport class
Sizes (m2): XS (20), S (21.9), MS (23.1), ML (24.4), L (25.9)
Certified take-off weight, paragliding (kg): 58-70, 65-85,75-95, 85-105, 95-115
Glider weight (kg): 3.9, 4.15, 4.3, 4.5, 4.7
Cells: 66
Flat aspect ratio: 6.0
Certification (free flight): EN C
This review appeared in XC196 (December 2018 / January 2019)