The Busa Flying Team at Riva del Garda in Italy are running a local (lake Garda area) XContest competition, with great prizes including Woody Valley's new competition X-Rated 7 harness.
Any qualified pilot can take part, on any certified wing (EN A to CCC); they simply need to record their flight (which has to fulfil the conditions below) on XContest.org, and tell the organisers about it – within seven days.
The rules:
You can enter up to five flights. One must start from Stivo church (A), and the remaining four must be from within the following areas: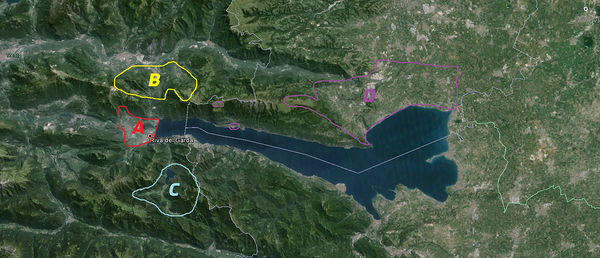 A: Stivo churchtake-off. Max 3 flights.
B: Somator take-off / Malga field. Max 2 available flights
C: Tremalzo take-off. Max 2 flights.
D: Caprino Veronese, Gas, Prada and Malcesine Cableway. Max 2 flights
Each flight must finish in one of the sectors, except for one wildcard or "jolly flight". This has to start in one of the sectors, but you can land as far away as you like. All of the flights can be 'replaced' if you subsequently better them – except for the Jolly Flight. Once you have claimed that, you can't change it.
3. Pilots have up to seven days to enter their flights on XContest.org, and let the organisers know via their website, Facebook page or email organiser Michele Marchi Vidi.
4. The contest runs from 1 January to 31 December 2016. Results can be seen on xcbusa.com
This inaugural event was in 2014, so 2016's is the third edition of the competition. Next year's is already in the planning (with a Compass flight instrument as top prize!).
xcbusa.com | facebook.com/xcbusa
---
• Got news?
Send it to us at news@xccontent.local.
Subscribe to the world's favourite hang gliding and paragliding magazine home
Never miss an issue
Our subscribers receive 10 issues a year, the annual Travel Guide and exclusive access to competitions and offers
Subscribe today