Zlatko Koren reports on the 2016 X-Pyr hike-and-fly race, 477 km coast-to-coast through the Pyrenees from the Bay of Biscay to the Mediterranean. The race started on 17 July 2016, and was won by Chrigel Maurer in 3 days and 15 minutes. Zlatko finished in eighth place, having covered an impressive 256.5km.
It was a danm good race !
Greg Hamerton with his words hit the spirit of it. "A big shout out to my friends and competitors on the X-Pyr race: the coolest bunch of crazies I've ever met. Thanks for giving your 100% so I could give my 100%"
The start was really fast. We ran up the Larrun like we didn't have backpacks on our backs and it was crazy hot. You want to push more out of you and you are so thirsty but when you drink, what you have in your backpack is so hot you can't swallow it down.
Flying conditions on Larrun were tricky. Weak thermals, small mountains. One small wrong decision in this afternoon and it really cost you a lot. Many athletes were grounded too soon. I was one of them. Fortunately I had a plan on how to continue. I stuck to it and at the end of a day I was again with the group »of crazies« on Coll de Izpeguii.
This night and the next morning were windy. I made the right decision and got up very early in the morning to run into the valley. I wanted to make it to the slopes facing south, to connect to TP2  – Ohri as soon as possible. We knew that in the afternoon there will be good flying conditions and the east side would be much better and with less wind. The first three competitors were again »lucky« or maybe not, as they were there only a few hours before us. We all had a possibility to run faster, fly better and not bomb out. For all of us the race started at around 11 am from Hondarribia.
Flying conditions this afternoon were great. Later on there were strong thermals up to almost 3000m, with less wind to the east. Flying my Cure over this crazy landscape was unbeliveble. I felt relaxed! This paraglider is a perfect balance of comfort, safety and performance with short sharp handling.
By the second day I was now with the second group of pilots and just caught the tail end of the good weather. The next days were windy, foggy and rainy. On these days we could only make some short glides in the strong wind or between the storms. Sometimes it was at the limit of safety! Somethimes with wet shoes we enjoyed running and walking in cooler temperatures.
On day four I made a wrong decision on TP4  – Pena Montanesa. I took off in the lee and flew to the small ridge across the valley only thermalling up to 2000m. Above this level it was too windy and I didn't have any slope to hang on and soar. To continue to flying with this wind in such a narrow valley would be too dangerous so I landed.
The next two days weather got worse. I could only make a short glide from a Plan to Benasque just before the rain. In the early afternoon I pushed over the Pyrenees main ridge to the French side where it was windy, foggy and rainy. I came into the valley near TP5 – Cecire just in time for dinner and a warm sleeping bag. It felt so good.
Chrigel made goal so today would be the last day. After turning TP5 – Cecire I flew down, but I had to land in a narrow valley. Cloudbase was too low to fly over the pass back to Spain so I ended up walking and running quite a lot. I really appreciated the custom light backpack and equipment from BGD.
X-pyr was a really nice adventure.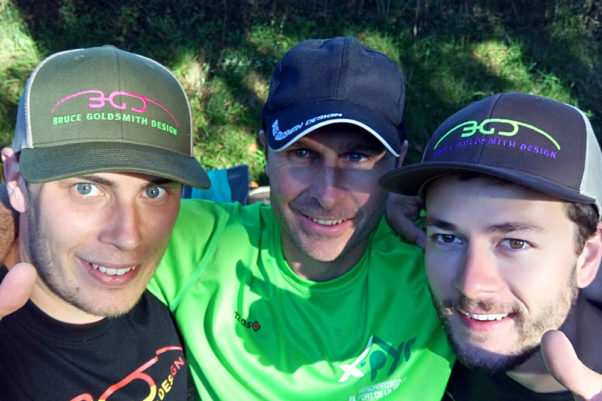 Koren's kit – total weight, 8kg:
BGD Cure S,  4.2kg
Harness, 1kg
Reserve, 1kg
Results, pilots, blogs and more can be found at x-pyr.com
Never miss an issue
Our subscribers receive 10 issues a year, the annual Travel Guide and exclusive access to competitions and offers
Subscribe today