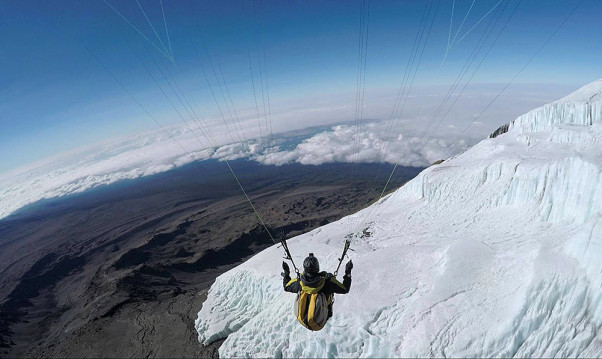 The Wings of Kilimanjaro 2015 expedition finished with a successful flight from Uhuru Peak on the morning of 29 September 2015.
Founder Adrian McRae, along with Hans Åberg and Dirk Stephan, realised the dream of launching from the roof of Africa, in what this year was a reconnaisance trip ahead of a larger fundraising event in 2016.
Wings of Kilimanjaro raises money for World Serve International, a charity which aims to bring clean water to people in East Africa. All pilots participating in WOK events raise money for the cause.
Following their flight, Adrian wrote on the Wings of Kilimanjaro Facebook page:
This morning we would just like to say a big thank you to all our charity contributors and of course our friends, family and followers who have supported us and our event in the lead up to, and realisation of, the 2015 Wings of Kilimanjaro event.

Even though this year's event was mainly a reconnaissance climb and small scale fundraising project, it has set the platform for WOK 2016 to be one of the biggest events on Mt Kilimanjaro next year. We look forward to sharing the excitement and energy as we buildup towards next year's charity event , Wings of Kilimanjaro, 2016.

Charity projects aside, after having had the privilege to climb the mountain annually for the last 4 years, and even more lucky to have soared above Kilimanjaro's Southern Ice field at 19,000″, it has really become alarming the rate at which Kilimanjaro's Equatorial Glaciers are disappearing. Many expert estimates say that the glaciers will be gone in 10 years, however my personal view is that there will not be much left to see in 5 to 7 years.

I can only wish that all my family, mates and friends-I-haven't-yet-met get to view 1st hand the"Snows of Kilimanjaro" (as Hemingway called them), before they are lost to time immemorial.

If climbing one of the genuine 7 Summits, or even doing an African safari is on your bucket list, now is definitely the time to visit Kilimanjaro; one of Africa's 7 Natural Wonders, to see these amazing ice caps up close or from the plains below, before their 12 millennium history become just that; a piece of history.

If walking among these spectacular pieces of ice isn't life changing enough, flying above them will surely be a life highlight.

Of course what better way to do see the glaciers before they are gone than to join us for Wings of Kilimanjaro 2016 Charity Project; partaking in the world's most exciting charity event while also making a huge positive impact on the lives of tens of thousands of Tanzanians in need. It will literally change your life and change the lives of many.

Thank you again to all friends and supporters of WOK 2105 and bring on WOK 2016!!

Hugs from East Africa
---
• Got news?
Send it to us at news@xccontent.local.
Subscribe to the world's favourite hang gliding and paragliding magazine home