Andy Pag, who reported for Cross Country from the Rat Race, was on launch when Gin and his team were test flying their new EN C glider, the Carrera. He snapped these photos.
Andy reports: "Gin are revamping their full range of gliders. The Atlas, their EN B offering, has already been certified in all sizes, apart from the imminent sign-off of the large.
"It's been confirmed that their EN D wing will be a version of the wing being flown in the X-Alps, and the latest prototype of the Carrera intended to be their EN C wing has just passed EN B certification."
These photos show US GIN distributor Jeff Farrell test flying the Carerra. "GIN Designer Torsten Siegel says they are waiting for feedback from team pilots and dealers, and may make some tweaks before releasing the final version at St Hilaire in September," Andy said.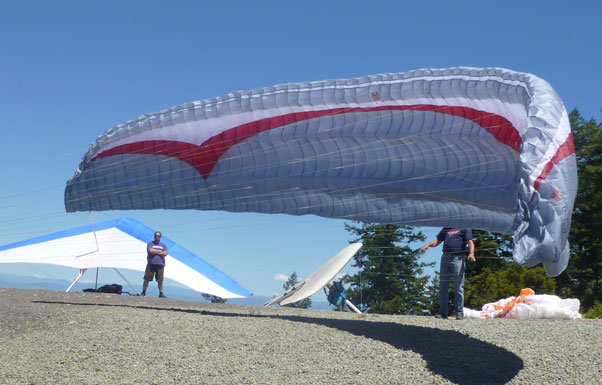 The GIN team were in Oregon for the Rat Race, which GIN team pilot Michael Sigel won.
---
• Got news? Send it to us at news@xccontent.local