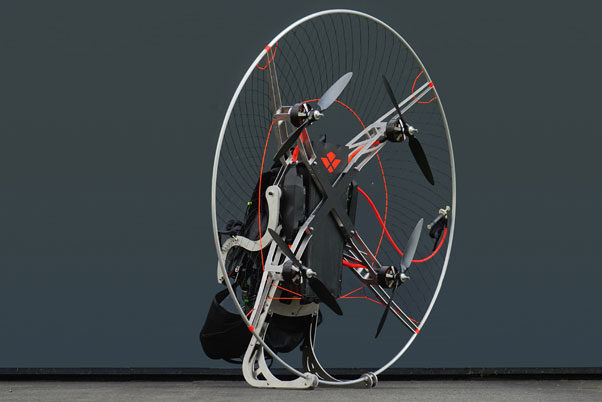 Italian firm Revolt are close to bringing their four-prop electric paramotor to the market.
The Revolt 1 differs to current paramotor designs in that it has four electric motors driving four small propellers, which are much cheaper to replace than larger props (around €30, rather than €300) should you break one, and also less likely to get broken. And because there are four, not all spinning in the same direction, Revolt say there are no vibrations or nasty torque effects.
A powerful craft, it offers 90kg of thrust which is more than a 250cc engine. If any of the motors stop working you can still fly on using the others, though the company claim the electric motors are very reliable, requiring very little maintenance.
The company say that the Revolt 1 is also a green means of personal transport in terms of grams of CO2 output per passenger kilometre. While it doesn't yet have the capacity to power you for as long as a tank of fuel would on a petrol paramotor, battery technology is continually improving. They have predicted that by 2025, Lithium-Air batteries will enable four times the autonomy that a tank of petrol does now. And you don't have the smell, noise and worry about spills that a petrol tank adds to the equation.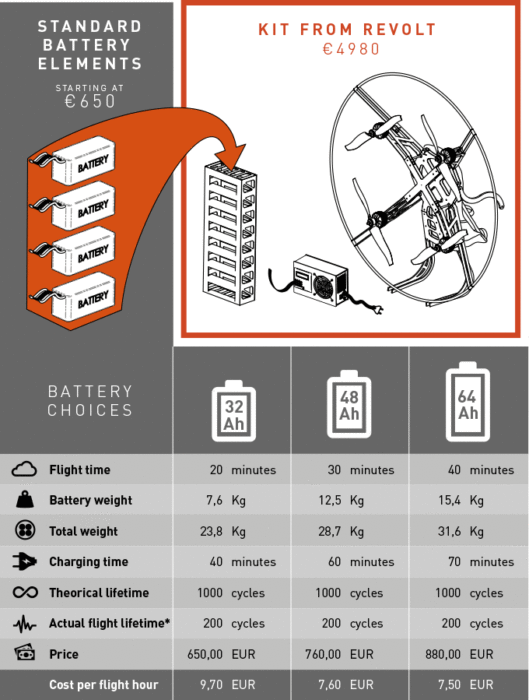 Revolt had their paramotor on show at the 2016 Coupe Icare, where they unveiled their Kickstarter campaign. Through this they aim to raise €95,000 in funds by 20 October in order to get it into production. €4.980 will get you your very own Revolt 1 – this is 23% off the expected retail price, to be delivered in March 2017.
---
• Got news?
Send it to us at news@xccontent.local.
Subscribe to the world's favourite hang gliding and paragliding magazine home