The start of the Red Bull X-Alps is less than one week away. As pilots arrive in Kitzbuhel ahead of the pre-race Prologue on Thursday and race start on Sunday, we take a look at what you need to know.
The Prologue
The one day pre-event race starts at 11am CET Thursday 8 June in Dorfplatz, Kirchberg. It will run for just a few hours and is a chance for pilots, supporters and the organisers to test their systems. You can follow live tracking, just as you can in the main competition.
Race start
11:30am CET on Sunday 11 June at Schulgasse 2, Kitzbühel. Tune in to live tracking about half an hour before to get set.
The pilots
There are 32 pilots competing. As usual they include a mix of veterans and rookies. The full list is here.
New start
For the first time since 2009 the race has a new start location. The Prologue begins in Kirchberg while the main race kicks off in Kitzbühel.
Route and turnpoints
The route goes east to west through the northern Alps to Mont Blanc before coming back through the southern Alps to finish in Zell am See.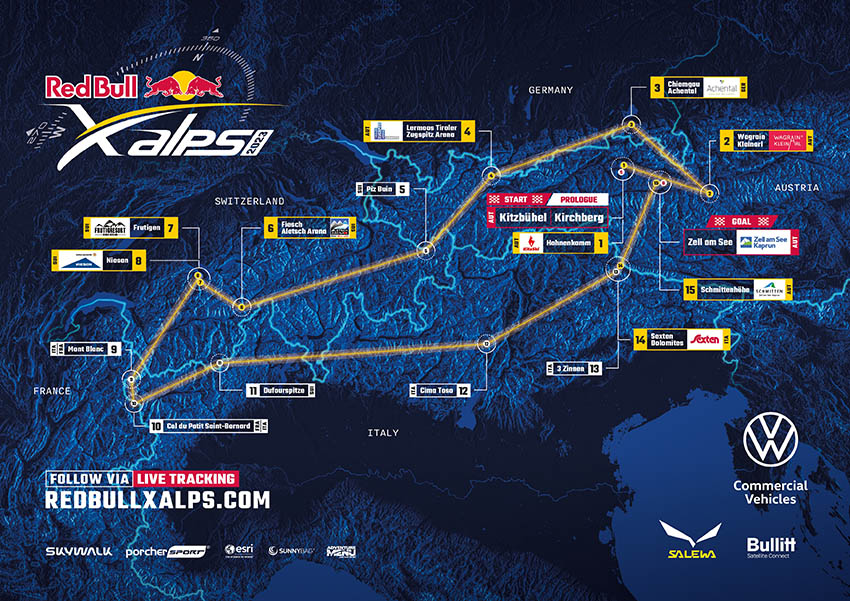 There are 15 turnpoints and the total length is 1,223km. As usual, the sponsored turnpoints require the pilot to land and sign-in, while the rest just need to be tagged by foot or in the air. The Red Bull X-Alps route is fully explained here.
New rest rules
There is a change to the rest period. Previously pilots had to stop between 10:30pm and 5am. This year the rest period has been extended. Every athlete must now rest for a minimum of seven hours, but it can be taken any time between 9pm and 6pm. That means a team can push on until 11pm and rest until 6am or stop early at 9pm and start at 4am. How pilots use this flexibility will depend on their strategy for their day ahead.
Night Pass
There is also a slight change to the Night Pass. Pilots now have until 8pm to announce their intention to hike through the night – meaning they can do so at the last minute. In the past, pilots had to announce it by midday.
Here's Gavin
Former US Red Bull X-Alps pilot, podcaster and Cross Country columnist Gavin McClurg is joining the media team as a race reporter. Look out for him going live on social media every day.
Live tracking
As always the live tracking will prove addictive. Each pilot is tracked as they race at redbullxalps.com, with updates and news stories throughout the day.