Das war der 30. Red Bull Dolomitenmann! Mit diesen Bilder bekommt man jetzt schon Lust auf die 31. Ausgabe am 08.09.2018! #dolomitenmann #verleihtflügel

Posted by Red Bull Dolomitenmann on Sunday, 10 September 2017
Lienz in Austria hosted the 30th Red Bull Dolomitenmann on Saturday 9th September 2017. A fast and close-run event, Pure Encapsulations were the winning team but the second and third-placed teams both finished within three minutes of the winners.
The event attracts top athletes in their sports, and there are professional and amateur classes. The four disciplines represented are trail running, paragliding, mountain biking and kayaking. Markus Prantl was the paraglider pilot in the winning team, but Aaron Durogati, Chrigel Maurer and Thomas Holzer had slightly faster times on the scoresheet for the paragliding leg.
The Red-Bull-sponsored event is a big show – 117 teams were scored, plus a further 11 which were either disqualified or failed to finish. It always draws large crowds and promises exciting viewing – get to Lienz if you can for the 31st edition, which takes place on 8 September 2018.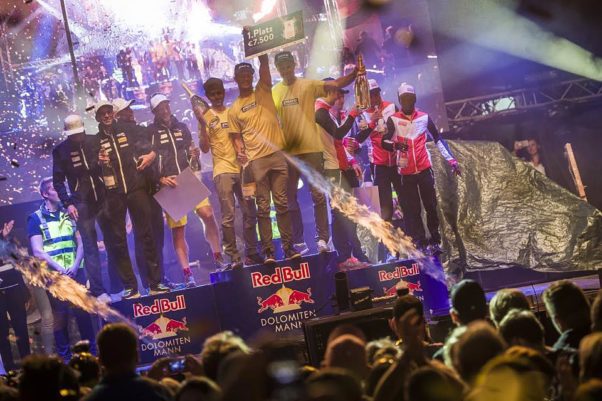 Results
Pure Encapsulations (Götsch Philip, Prantl Markus, Longo Tony, Schmid Gerhard), 03:50:57
Kolland Topsport Professional (Gray Joseph, Maurer Christian, Geismayr Daniel, Natmessnig Herwig), 03:53:23
Kleine Zeitung Panaceo Martini Sportswear (Mamu Petro, Peer Lorenz, Hynek Kristian, Filzwieser Manuel), 03:53:48
Full results can be seen here
---
• Got news?
Send it to us at news@xccontent.local.
Subscribe to the world's favourite hang gliding and paragliding magazine home