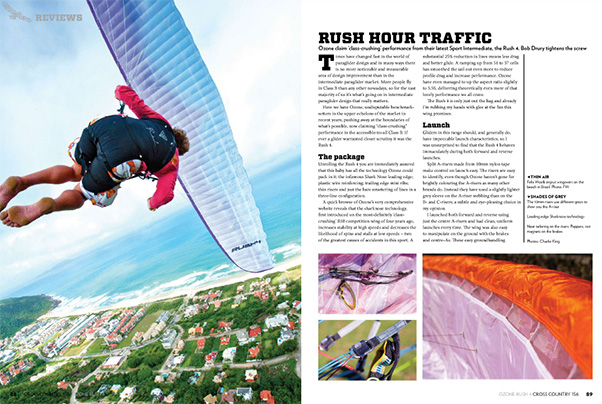 Bob Drury reviews the Ozone Rush 4 in Cross Country 156 (Nov/Dec 2014). We told him to take it out into the rush hour traffic above Chamonix – where he promptly put it through its paces in the alpine sky.
Unrolling the Rush 4 you are immediately assured that this baby has all the technology Ozone could pack in it: the infamous Shark Nose leading edge; plastic wire reinforcing; trailing edge mini cells; thin risers and just the bare smattering of lines in a three-line configuration.
A quick browse of Ozone's very comprehensive website reveals that the Shark Nose technology, first introduced on the most-definitely 'class-crushing' R10 competition wing of four years ago, increases stability at high speeds and decreases the likelihood of spins and stalls at low speeds – two of the greatest causes of accidents in this sport.
A substantial 25% reduction in lines means less drag and better glide. A ramping up from 51 to 57 cells has smoothed the sail out even more to reduce profile drag and increase performance. Ozone have even managed to up the aspect ratio slightly to 5.55; delivering theoretically even more of that lovely performance we all crave.
The Rush 4 is only just out the bag and already I'm rubbing my hands with glee at the fun this wing promises.
The full review is in Cross Country 156.
---
• Got news? Send it to us at news@xccontent.local
Buy and sell gear on Skyads.aero