Swing say they developed their new EN C wing, the Nexus, with the glide and stability that will help pilots fly long distances at fast speeds.
Developed for tough conditions, Swing say the Nexus is reliable and intuitive, with better performance than ever whether at full throttle, or when gliding or climbing. Rough air? Bring it on, they say!
The Nexus has a glide ratio of 10+. Swing say:
We had the opportunity to test out the prototypes as part of a study on performance measurement by Compass, the flight computer manufacturer. For the first time, pure glide ratio was determined not from the relationship between distance covered and height lost, but from the exact angle of the passing airflow, using a new type of measuring device, the C-Lab.

The findings on the performance of the NEXUS, compared to its main competitors, are convincing: consistent glide ratio over 10, reliable trim speeds of almost 40 km/h, up to 55 km/h when accelerated!
The Nexus is aimed at a broad group of pilots, "from experienced social pilots right through to ace cross-country pilots going after records".
Three sizes are certified LTF/EN C, and certification for the XS size is in progress.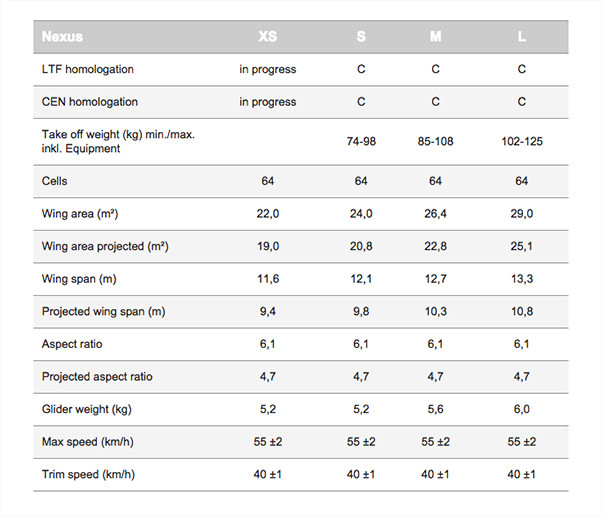 ---
• Got news?
Send it to us at news@xccontent.local.
Subscribe to the world's favourite hang gliding and paragliding magazine home