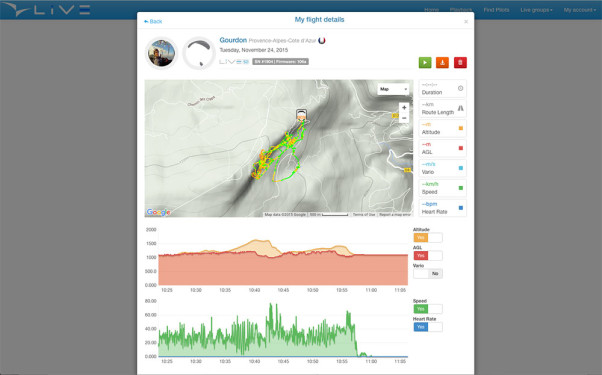 Users of Flymaster Live and Live SD instruments can now see, analyse and play back all their flights online on Flymaster's Cloud.
Flights are automatically uploaded from Live and Live SD instruments already (November 2015), and the Cloud will soon be useable by other instruments in Flymaster's range too.
In addition, Flymaster's live tracking-capable devices now detect potential emergency situations and send out alerts.
An emergency is assumed if the instrument detects a high G-force or high descent rate, followed by a certain time without any movement. If activated, the instrument will sound an alarm, giving the pilot ten seconds in which to deactivate it if, in fact, he just performed a stunning ground spiral and is completely OK, after which the alert process will begin.
An alert is sent through the GSM network to Flymaster's server, and an SMS then sent to any numbers defined by the user as their emergency SMS contacts, and an email sent to their emergency email contacts.
Flymaster say they hope to establish some kind of cooperation with the pilots' associations in each country in order to send the alert to some rescue entity.
---
• Got news?
Send it to us at news@xccontent.local.
Subscribe to the world's favourite hang gliding and paragliding magazine home