PARAGLIDING IN JORDAN: FIRE IN THE DESERT
Felix Wolk heads to Jordan with three acro stars for a five-star photoshoot in the desert. First published in Cross Country magazine, 2004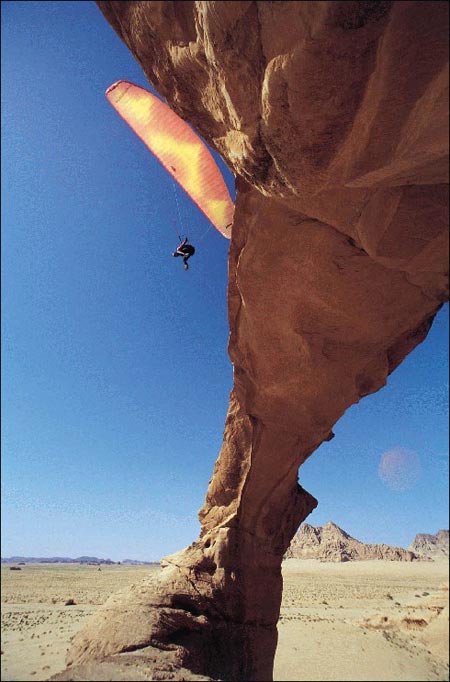 Mike Kung with space between his legs. All photos: Felix Wolk
"EXCUSE ME SIR, if you could just open your bag, we'd like a closer look …" It was more a polite order than a request, but came as no surprise. Then again, I hadn't expected to pass through security at Munich airport easily with almost ten kilos of fireworks in my luggage. Especially not with 'Destination: Amman' printed on my ticket. As the centre of Middle-Eastern politics and the capital of Jordan, this is an area where people have a reputation for occasionally losing their cool.
I came up with every convincing argument I could to keep my collection of incendiaries, whilst at the same time trying to act as important as possible: "I have been invited by the Jordanian government, along with the world's top paragliding pilots, to promote the country through stunning photography. And, to capture the grace of aerobatics as effectively as possible, it is essential I am allowed to keep these little tins of coloured powder."
Success! At the mention of the words 'guest' and 'government', the officer was suitably impressed. I failed to mention that the innocent little tins that he'd superficially inspected were more commonly known as smoke bombs. Once ignited, they spew an unstoppable cloud of pungent sulphurous smoke, which sticks in the lungs and leaves everything in the vicinity stained a nice shade of orange.
After numerous phone calls I was given permission to pass through. Having cunningly withheld any mention of the existence of a small arsenal of distress flares, I chose this moment to vanish into the departure terminal as fast as I could. With the fireworks in the bag and the plane's engines rising from a whistle to a shriek, we had the go-ahead for a perfect photo-shoot.
Taking off, I could almost taste the adventure. The goal: to stage a photo shoot for Ozone in an Islamic region with stunning scenery, high calibre pilots, and at the behest of the Jordanian government – not to mention the fireworks, I was more than a little excited.
Arriving in Amman, our journey soon gave us a sumptuous taste of the decadence of Arabian luxury. The Jordanian government had tasked our guides, Omar, Jousef and Mohammed, to show us the country's sights. In this country, guests are treated like the king himself. Our various hotels had names like 'Crowne Plaza', 'Imperial Palace' or 'Mövenpick Resort'- any establishment with less than five stars was simply unworthy of our attention.
The King of Jordan, Abdullah II, is a liberal-minded monarch. It's to his credit that sports like paragliding are welcomed in Jordan. Like his father, the late King Hussein (still hugely admired around the world for his wise and diplomatic politics), Abdullah follows tradition and continues to steer the course his father set.
If Abdullah II didn't rule the country the way his father did, he would lose the people's confidence. Abdullah studied at the world's best universities and served as leader of Jordan's elite troops before he was crowned. He's an enthusiastic skydiver who still takes part in training sessions with the special forces, and as a result he's acquired a reputation as a bit of a tough guy in his own country.
It's hard to get a true picture about the political situation in the Middle East without talking to the locals. The information portrayed in the world press, or on TV about the course of political events in Jordan and its neighbouring countries is doubtful, to say the least.
It would be naive to think of this part of the world as a centre of terrorist activity. The Jordanian people welcome foreign travellers and tourists with great hospitality. Tradition and religion demand this as they stand high and proud above political affairs.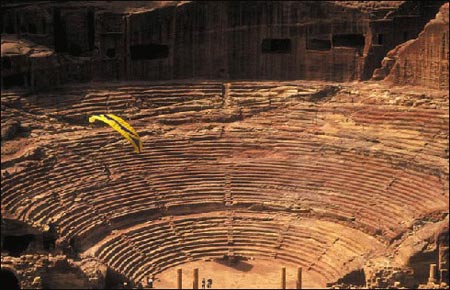 THE BACKDROP
Our time spent in the bars of the country's best hotels soon ended, and we entered an alien landscape I could never have imagined belonging to planet Earth. The Wadi Rum, for one, is a desert of shapes and colours, an area of land abused by searing heat during the daytime and blanketed by cold at night.
Storms sneak through the mountains of this desert and shape the rocks into surrealistic sculptures. Followed by a dense red, sandy cloud, they vanish over the horizon as quickly as they came, leaving nothing but yet more sand and a ghostly silence in their wake.
After dark, the deathly silence and eerie light of a full moon shining over the rocky desert creeps insidiously into your dreams. Once, sleeping outside, a nightmare jerked me awake leaving me confused, my sense of time and space hopelessly lost in this unearthly moonlit landscape.
The Bedouin, nomads of the desert, live a humble and self-sufficient life in tents that protect them from the sun and the storms. Most, but not all, migrate across the length of Jordan twice each year following the seasons to find the best living conditions.
However, many have given up their traditional way of life to get a job in civilization. Working as guides or drivers, they help tourists discover the secrets and majesty of the desert. Saud was one of them. With his best friend (a fur-covered shotgun) tucked away in the cab of his old Landcruiser, he drove us through the deepest sand straight to the most beautiful spots with superior ease.
Whenever we came close to getting stuck way out in the desert, his first move was always to light a cigarette. Driving one-handed and at a snail's pace and with flat tires, we always made it through without resorting to the shovels.
THE PILOTS
I spent three weeks working with three completely different pilots. Antoine Boissellier is either 'on fire' or 'cold as ice'. There's simply no middle ground. You wouldn't expect it if you'd never seen him fly, since on the ground he's a calm and reserved character. In the air it's a different story, constantly throwing down run after run of tough aerobatics close to the rocks and ground.
He's also an excellent pilot to have on a photo shoot: combined with his world-class flying skills, he always knows exactly what's necessary to get a good shot. Without any guidance he always heads straight to the perfect place at the perfect time, making any photo session with him a very relaxed and easy affair for the photographer.
Few pilots have not heard of Mike Kung. A 'full-on' pilot, the word 'relaxation' is completely missing from his personal vocabulary. A complete perfectionist and nonstop worker, he's learnt to use his glider to climb up vertical and overhanging rocks, kiting up sheer faces to the point where the dynamic wind is strong enough to carry him away. Mike is a professional, a fanatic and a sportsman. He's a pilot with commitment like no other, but he demands the same from others.
Working with Helmut was also very different to working with the other two, and we spent our time together having adventures in mountaineering. Climbing many of Jordan's summits, we found bizarre places to take off and slept on the desert peaks with only our gliders to keep us warm. The joy of spending time in the wild was what we both enjoyed as opposed to the brief adrenalin rush of aerobatics.
My romantic notion of being a homeless, travelling rambler in the Jordan desert was not to be. The sheer luxury we were exposed to soon shattered this idea. But the feast of images, experiences and history served up before us in a mere three weeks soon made up for it: the Dead Sea, the Red Sea with its bloody, glowing sunsets, the Jordan valley with its fecundity, the Gulf of Akaba, the city of Petra hewn from solid rock, and the fantastic 'Wadi Rum' with its storm-shaped desert mountains.
Every place is infused by ancient, religious mystique and features prominently in the holy pages of the Koran and Bible with tales of prophets, sacrifice and faith. Arabic traditions mix with Christianity, Judaism and Islam.
In Jordan politics are a distant memory. Personally, I did not feel in any danger during the whole time spent there. Nor did I care – there were too many places of strange, arcane beauty that left my mind mesmerized, enchanted and longing to return.
• Got news? Send it to us at news@xccontent.local. Fair use applies to this article: if you reproduce it online, please credit correctly and link to xcmag.com or the original article. No reproduction in print. Copyright remains with Cross Country magazine. Thanks
Subscribe to the world's favourite hang gliding and paragliding magazine
SUBSCRIBE TODAY
Learn to fly better with technique, weather and safety articles, read the latest glider and gear reviews, and be inspired with adventure and flying stories. Subscribe now and get ten issues per year, plus our Travel Guide, and entry into our Prize Draws
Subscribe today