Digifly have released a version of their AIR-BT flight instrument that can display readings from a pitot tube, and it's accurate enough for paragliders.
Faster aircraft have been using pitot tubes for years to gather accurate airspeed data, but until recently the sensitivity of the sensors was too low for readings to be accurate for slow-flying craft such as paragliders.
Digifly now have new, more sensitive sensors that are accurate even at low speeds (they pick up readings at 5kmh and are accurate to 0.1km/h). The AIR-BT Pitot instrument was released in March 2018. The pitot tube can be easily attached to a paragliding harness.
Having accurate speed data means the Speed to Fly function suddenly comes into play, giving the optimal speed to fly at any given moment based on the current aerological conditions, for the best performance.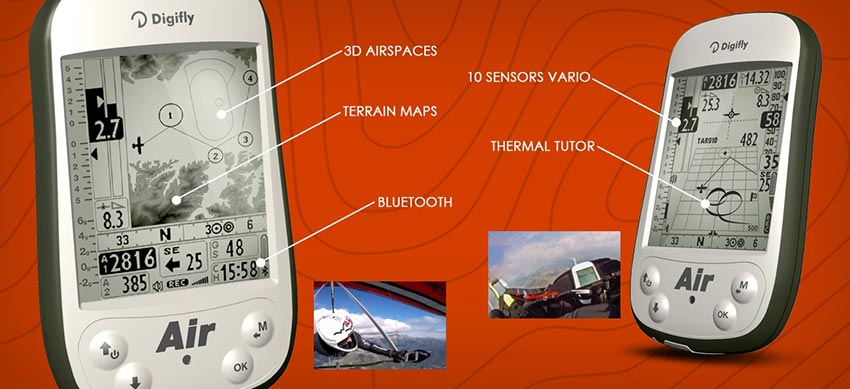 Having pitot tube readings opens up the following functions:
Airspeed (IAS/TAS)
Speed to Fly
Speed Difference (shows the headwind component at any given time, measured without the need for the pilot to make a 360° turn. Very useful during landing approach)
Pitot Tube Assisted Wind Meter (The pitot tube allows for faster, more precise wind speed and direction readings)
Vario Function with Total Energy Compensation. (this enables your Digifly to distiguish whether you are climbing because you are in a real thermal or if you are climbing due to a change in your speed. This means that hearing a thermal beep just when you change your speed is gone)
Stall Alarm
McCready and Equivalent McCready Functions
Netto Vario
Polar