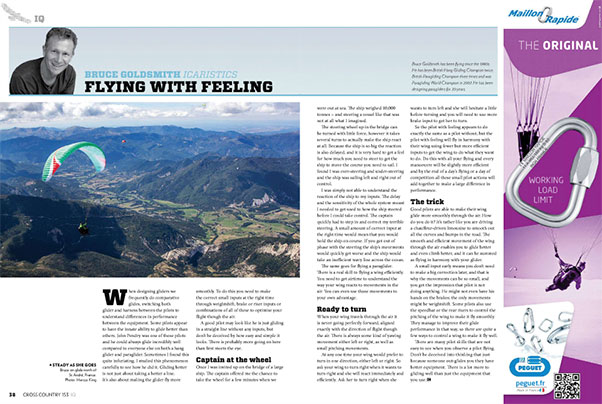 Bruce Goldsmith has been writing for Cross Country magazine for over 20 years.
A former World Champion and multiple national champion, he has experience in flying and designing hang gliders and paragliders stretching right back to the start of the sport.
Each issue he takes a topic and discusses it, examining how it can make you a better pilot.
This issue it's gliding better. He writes:
Gliding better is not just about taking a better a line. It's also about making the glider fly more smoothly.

To do this you need to make the correct small inputs at the right time through weightshift, brake or riser inputs or combinations of all of these to optimise your flight though the air.

A good pilot may look like he is just gliding in a straight line without any inputs, but don't be deceived by how easy and simple it looks. There is probably more going on here than first meets the eye.
Icaristics is in every issue and has been essential reading for pilots for more than two decades. Don't miss out!
Out now, in Cross Country issue 153 (May / June 2014).
---
• Got news? Send it to us at news@xccontent.local
Buy and sell gear on Skyads.aero