Alex Mateos is Paramotor World Champion for the third time, and Marie Mateos is female champion.
The tenth FAI Paramotor World Championships took place in Thailand from 30 April to 6 May.
"I do not have words to describe my joy!", said Alex, after an "intense" competition with eight scored tasks and a slightly unfamiliar scoring system.
Marie also commented on being slightly outside of her comfort zone with different scale maps ("quite pleasant to use"), and the only available petrol being 95-octane rather than the 98-octane she would have normally used. With long, twelve-hour competition days Marie admitted, "I made mistakes, but I have targeted them so that it does not happen again".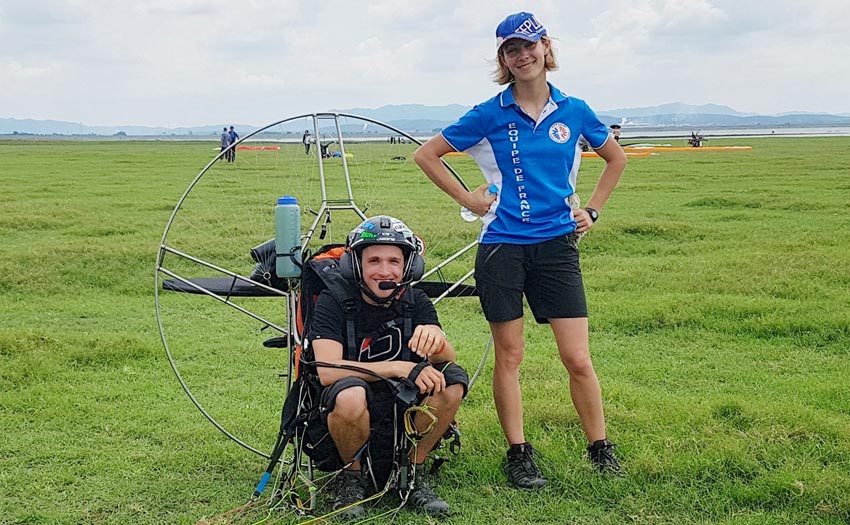 To round off a truly successful event for the Mateos family, Alex's father Jean and his passenger Célia Domingues came first in the tandem trikes category.
Results
PF1 solo footlaunch
Alex MATEOS, FR, 390 points
Vicente PALMERO RODRIGUEZ, ES, 327 points
David WAINWRIGHT, AU, 311 points
Nations: France (1082 points), Thailand (901 points), Spain (873 points)
PL1 solo trikes
Wojciech BÓGDAŁ, PO, 165 points
Boris TYSEBAERT, FR, 161 points
Sergei MIKHEEV, RU, 148 points
Nations: Poland (494 points), Russia (389 points), Thailand (293 points)
PL2 dual trikes
Jean MATEOS, Célia DOMINGUES, FR, 130 points
Jaroslaw BALCERZEWSKI, Magdalena KLOSS, PO, 114 points
Adam PUPEK, Piotr KOZIKOWSKI, PO, 109 points