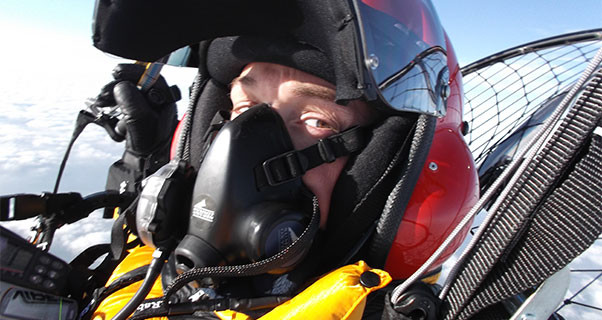 Giles Fowler explains how to set a height record in paramotoring
Flying above 10,000ft the CAA recommends using supplementary oxygen, and above 35,000ft 100% oxygen is needed. During the 2014 preparation we visited the RAF Centre of Aviation Medicine (UK) and quickly realised the seriousness of what we planned.
Air pressure at 25,000ft is so low that if you breathe unassisted, the oxygen in the blood stream actually exits the body rather than being taking on, so we needed a reliable process for oxygen delivery.
In 2014 I'd used the pulse dose and cannula system from Summit Oxygen. It was successful, but it was my dexterity rather than the system that was an issue. For our 2015 flight Summit provided a mask with a constant-flow setup.
It is not as efficient, but the oxygen mask presented less overall risks and the flow rate could be adjusted with simple pilot inputs via big-gloved hands. The main O2 cylinder was complemented with a 30-minute back-up cylinder – my 'last chance bottle'.
We also learned about decompression sickness, which occurs when you are exposed to high altitudes and low air pressures. The longer the exposure, the greater the risk and we had no way of guarding against it.
We noted the possible symptoms and what to do if they were experienced. Each risk in isolation is manageable, but add them together and the risk factor multiplies significantly…
This is just a preview, the full article is in Cross Country 167, Feb/March 2016

Never miss an issue
Our subscribers receive 10 issues a year, the annual Travel Guide and exclusive access to competitions and offers
Subscribe today