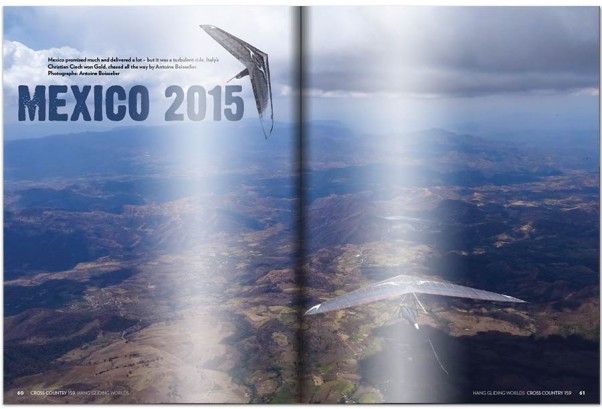 "Can you take some photos for us when you are there please Antoine?" we asked.
"You betcha!"
Antoine Boisselier not only took his camera to the Hang Gliding World Championships in Mexico and got us loads of photos, he came back with a Silver Medal!
Congratulations Antoine! And congratulations of course to the new Hang Gliding World Champion, Christian Ciech.
The two pilots fought it out in the sky above Valle de Bravo, flying 100km tasks and going head to head over long days.
They led the pack of 90 international pilots who had converged on the Mexican free flying mecca.
We feature Antoine's beautiful photographs across page after page of the latest Cross Country magazine – issue 159 (May 2015).
---
• Got news? Send it to us at news@xccontent.local
Buy and sell gear on Skyads.aero
SUBSCRIBE TODAY
Learn to fly better with technique, weather and safety articles, read the latest glider and gear reviews, and be inspired with adventure and flying stories. Subscribe now and get ten issues per year, plus our Travel Guide, and entry into our Prize Draws
Subscribe today