Valle de Bravo, just outside Mexico City, celebrated 40 years of free flight in August 2018 – hang gliders were first flown here on 13 August 1978. Valle de Bravo flying guide Marko Hrgetic tells us some more about the site.
Marko, when's the best time of year to fly Valle de Bravo?
For intermediate pilots it is from November till February. The days are not especially long but still you can fly around 6-7 hours if you stay all day long in the air. The chances of non-flyable day are really low in that season and in general it's around 1% probability you will not fly. No other place compares with this, neither Colombia nor any I know.
The strongest but the most interesting season for XC flying is from end of February till May. Winds are the strongest in March but then they drop down in April. The sun's activity is much higher than in winter with the peak in May. Thermals are strong and you can find lift over 10m/s with cloudbase at 4,500m and above. Really amazing flying for advanced pilots and some of the locals will fly good XC. If you like it strong and challenging than visit Valle in March or April.
The house thermals have some great names. Why are they called things like 'Crazy Thermal'?
Crazy thermal gets you crazy. It's the place with the most reserve tosses of the whole area but it gets you high.
What sort of XC can pilots expect?
6-9 hours of good thermals with climbs depending on the season from 4-8 m/s. Cloudbase height in winter time can go up to 4,000m but mostly stays at 3600m ASL. May sees cloudbase over 5,000m ASL.
The local record is an FAI triangle of 145km (January 2018). The site has potential for 200+km triangle and we'll try to make that soon.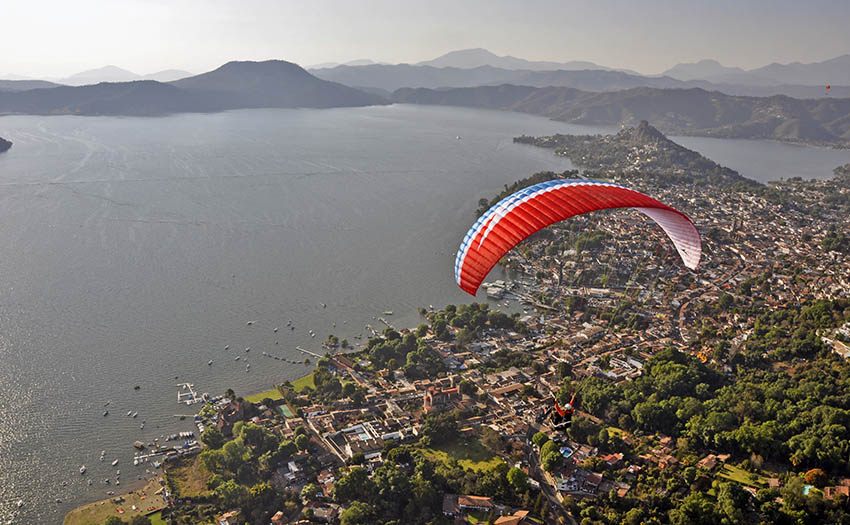 Is it a good place for new XC pilots?
Valle is good for everyone, new pilots and top pilots. You can choose when and where to fly depending on your skills and knowledge. I teach all year around with pilots of all levels. If you know when and where to go you can really play around.
What are your three top tips for pilots coming to fly Valle de Bravo for the first time?
1. If you really want to fly good take two or three days guiding from some local instructor who is good XC pilot. The place has some tricks that it is good to learn about.
2. Try to learn about the local valley winds so you understand where to fly and where not to
3. Know how much the taxi will be back to Valle, and buy a Telcel SIM card.
Mexico gets a lot of bad press … how safe is it in Valle de Bravo?
Valle de Bravo is super safe. Personally I have never had any bad experience or seen it but, like anywhere else in the world, if you mess with the wrong people it can get you in trouble. It has never happened to any visitor that I know of.
If there are some safety issues in Mexico it will be between the gangs and not around Valle de Bravo. Valle de Bravo is a getaway town for the middle and upper classes of Mexico City so it is very safe. Just don't do stuff you wouldn't do back home.
Valle de Bravo or Roldanillo? 
Valle de Bravo has more constant weather. I go to the Cauca Valley in Colombia as well and the weather can't be compared. You will get more flying hours in Valle, but it is rougher.
Also in Roldanillo you can't make an afternoon flight, while in Valle the afternoon can be quite magical. There are fewer pilots in Valle. If you want to fly every day then Valle is the place.
What's your best memory of flying here?
Flying over the volcano Nevado de Toluca is an experience that is really something special. Making an XC there and back is really something.
Quickfire round: Favourite place to stay?
It's best to rent a room or apartment in the area of Santa Maria. It is close to the landing and ParaTaxi service.
Favourite taco?
Tacos de Barbacoa at Santa Maria church in the morning. Best one in Mexico for sure. Also if you bomb out at El Penon, the tacos down there are delicious.
Favourite Mexican beer?
Try artisan beers made by local breweries. There is some really good Mexican beer!
Marko Hrgetic is on Instagram and at paraglidingmexico.com