Alex Ploner has won the FAI Hang Gliding World Championships three times (2009, 2011 and 2019) and is also the current FAI Hang Gliding European Champion. He is currently battling it out with 100 other pilots in Krushevo, hoping for a possible fourth World Championship gold medal.
Last year Cross Country Magazine's Ed Ewing spoke to him after he'd won the FAI European Hang Gliding Championships in July 2022. There, he beat his longtime rival, Italian teammate and friend Christian Ciech into second place, and Germany's Primoz Gricar into third. The competition was held in Siglio in the Apennine mountains, central Italy, and saw amazing conditions with nine tasks flown – from 91km to 201.6km. All up, a total of 1,300km was flown during the two weeks, with some tasks seeing pilots still coming into goal after nearly seven hours in the air and land-by times of 8.30pm. Christian was flying his Icaro 2000 Laminar.
Alex, congratulations. How many times is that now?
Thank you! I have won the European title three times, and also been hang gliding world champion three times. I have won the Class 5 (rigids) world championships twice. My European titles were 2012 in Kayseri, Turkey, 2018 in Macedonia and now 2022 in Italy. I won my first world championships in 2009 in Laragne, France, then again in Italy in 2011 and 2019. My Class 5 titles I won in 2008 in Italy and 2001 in Algodonales in Spain.
That's an amazing flying and competition career. How does your first win compare to winning now?
I'm 46 now, and you know I remember winning my first Class 1 world championships in Laragne. It was like there was a bomb going off in my head when I was on the podium, I couldn't believe it. Me? The world champion? Unreal. Now I can be calmer, more reflective. I can think when I'm on the podium, think about winning and what it means, what it's like.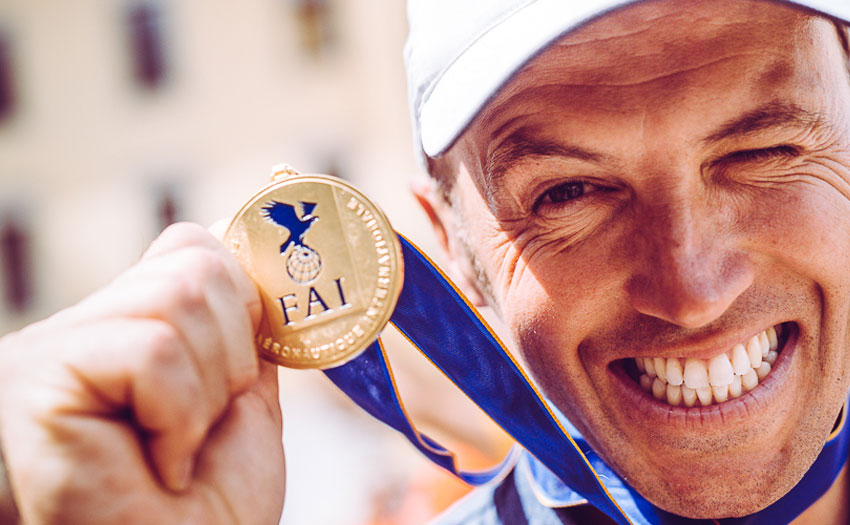 You have a great rivalry and friendship with Christian Ciech, also Italian. He came second and has been European champion once and also world champion once.
You know we came up together. We really pushed each other when we were flying rigids in the 2000s. We were the only pilots really pushing you know, and so that helped. Now, we are friends, of course we are. But in competition, well you know competition! At the start we always fly conservatively and share information, because we want to score points and fly for the team and we talk on the radio. But then if we fall into a position, like first and second, then we talk less and the competitions starts.
Do you ever fly together in the tasks?
Hang gliding competition is a bit different to paragliding competition in that we don't fly in gaggles so much. Especially in the mountains it's all about the lines, but we fly in a similar style so yes, sometimes we meet up in the air. You know on the last task this year it was 187km and we flew it in less than three hours. I think Primoz Gricar, who won the task, had an average speed of 65km/h [actually 66.96km/h]. The conditions were just amazing.
Tell us about those, why was it so good?
Well, we often get very long convergence lines in the Appenines but I spoke to some local pilots, flying even longer than me, and they had never seen anything like it. The consistency, day after day of very good weather. I guess it's the changing climate, like everywhere. Most days I landed thinking we could have gone further. Even the 200km day, I'm sure if they had set a 300km task some pilots would have made goal. These 200km tasks we know from Australia, where you go downwind, but it's rare in Europe.
The competition was really well attended.
It's like everywhere, this competition was postponed a year because of Covid and so everyone is just happy to be back. The atmosphere was excellent, wonderful. But you know I worry, we are the same guys, we've been flying for years. I feel if we don't get new pilots into the scene, then we'll really lose it. I work part time as a test pilot with the DHV, and we talk about it a lot, how to encourage new pilots, to encourage instructors and schools. We have some ideas.
How about yourself? At the same time as you were winning the Europeans, your former rival and multiple-time world champion was flying and winning the Swift world championships in France. Does that appeal?
Yes it does! I have a Swift actually. And I love flying it. Manfred is always trying to twist my arm to come to the competitions. But I always have to choose, and as I am still flying well in hang gliding, then I feel I should stay in hang gliding. But yes, it's very appealing!
FAI Hang Gliding World Championships 2023 are in Krushevo, North Macedonia, 6-19 August 2023. Find the results at civlcomps.org/event/hgworlds2023/results