The latest issue of Cross Country magazine features a stunning image from the Isle of Skye in Scotland on the cover. Shot by Jerome Maupoint he spent 12 days on the island last year, waiting to seize the moment between rain showers, blown-out days and sparkling sunshine.
The result is a photo feature we called Wild Country – for obvious reasons. The Highlands of Scotland offer some of the most adventurous flying in Europe, but you have to work for it. That means big walk ups, big flights, and sometimes even bigger walk-outs.
It's all in the name of adventure, and that we have in spades in issue 153, May / June 2014.
GET TO GOAL
Our first feature is a new pilot's guide to flying competitions. We've talked to experts around the world to get the lowdown on how to get the most out of your early comps – "Don't race! Fly normally, go to learn and have fun," is the top advice.
HANG 10
After that we round up some of the best 'alternative' comps on the scene. From the Ozone Chabre Open and the GIN Wide Open to the Rat Race in the USA these events fill up in record time and pilots can't get enough. They must be doing something right – we find out what.
SOUTH PACIFIC
Next up is the latest from Tom de Dorlodot and Horacio Llorens – they've been in the South Pacific and returned with a stack of stories, photos and film. We picked their brains on how we can do the same and show you how you can fly the best of Tahiti and French Polynesia. Well, we like to dream…
IF YOU FEEL LIKE FLYING, FLY
If you thought working as a tandem pilot in a place like Nepal would be a dream job then take a deep breath and lean back to read Andy Pag's dispatch from Pokhara. After a difficult and tragic season in which he saw one accident too many he was left questioning himself, the sport and asking 'Why?'. In this deeply personal account of his season he searches hard to find some answers.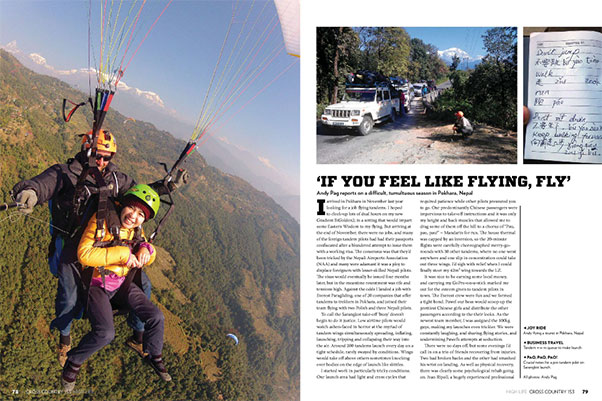 BABY BOOMER
It's a B, but it's a C… it's the new GIN Carrera, the Sports glider that everyone's talking about. Hugh Miller takes it out and returns grinning ear to ear. Did he like it? We think he did. The full review is in this issue.
CHAMPAGNE FOR ALL
The Ion 3 is Nova's latest EN B glider and is aimed at classic B pilots – those who want good performance with top-level passive security. Pat Dower takes it out to play. PLUS: Pat goes mini and tries out Nova's SuSi too.
THE OUDIE 3
It's pitched as the Apple of all flight instruments, but does the new Oudie 3 really 'work straight out of the box'? Marcus King got his techy fingers all over it.
PLUS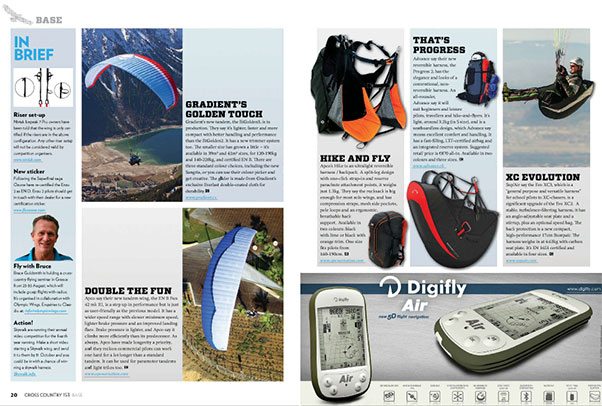 All the news: Ten pages of the latest products and gear
Prepare for success: What you need to fly as far as you can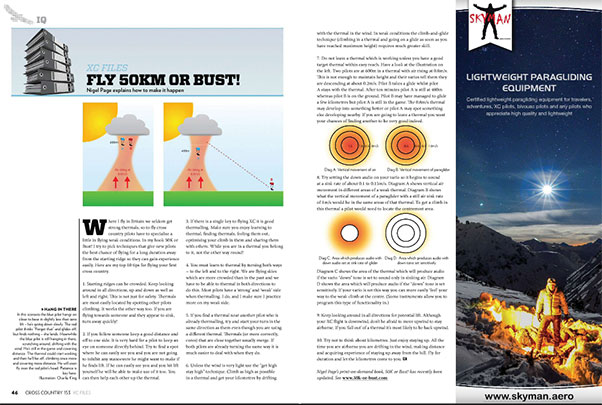 50K or bust: How to start flying XC and planning your first 50km flight, with XC coach Nigel Page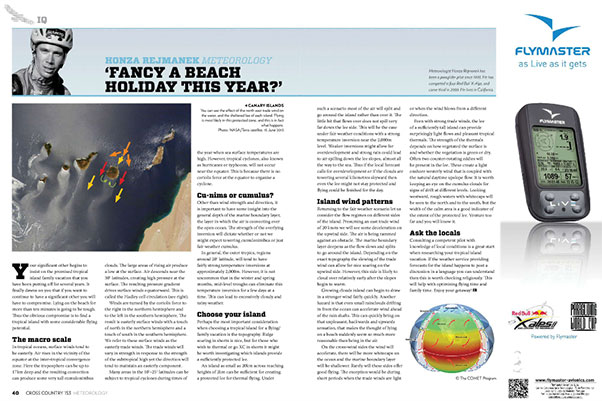 Beach holiday: Honza Rejmanek tells us how you can combine a seaside vacation with some quality flying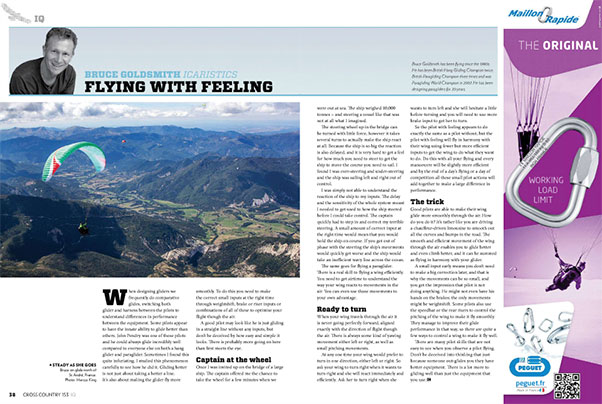 Icaristics: Bruce Goldsmith on why feel matters most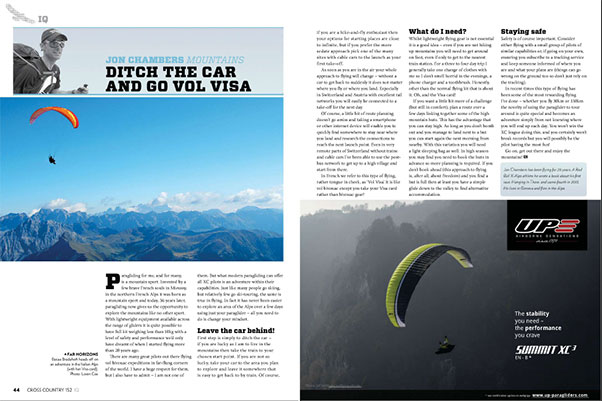 Jon Chambers: Flying the mountains 'Vol-Visa' stylee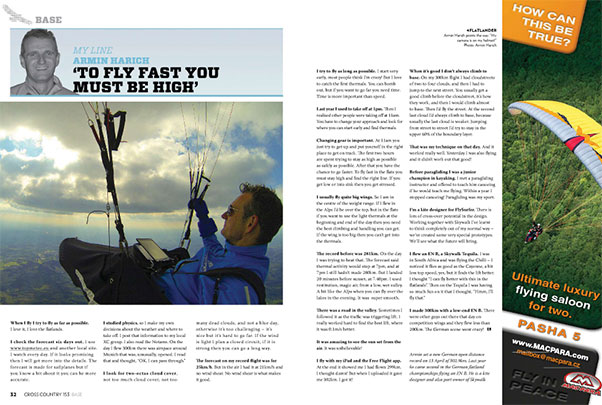 Armin Harich: Germany's flatland guru on flying 300km on a low-end EN B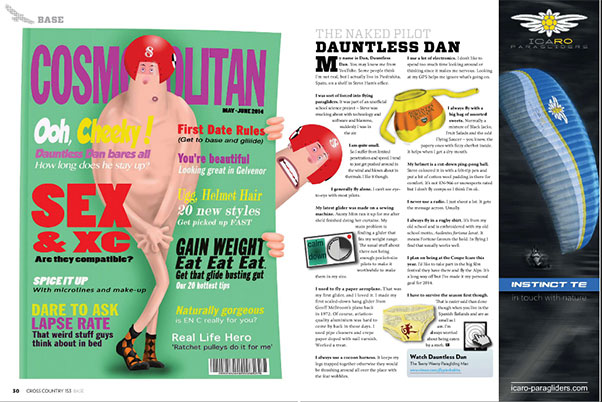 Naked Pilot: We talk to Dauntless Dan, the teeny-tiny paragliding man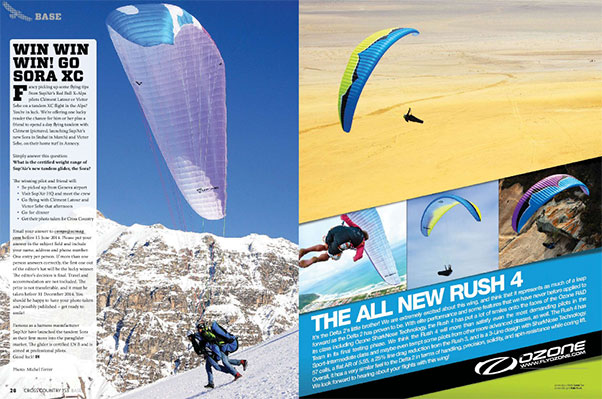 WIN: A day's tandem flying with Sup'Air's Red Bull X-Alps pilots Clement Latour and Victor Sebe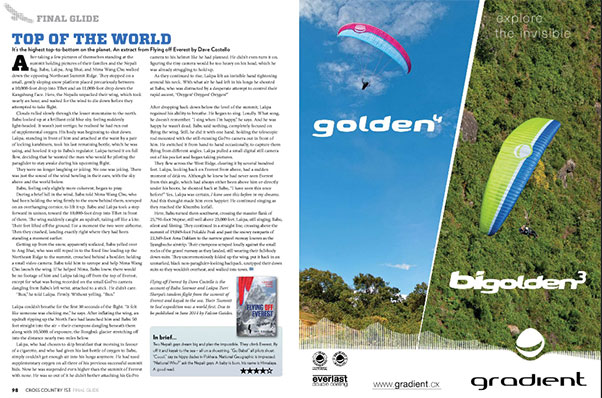 Flying off Everest: We check out Dave Costello's new book about Babu et al in Nepal.
Come on, let's get to base! Subscribe here
---
• Got news? Send it to us at news@xccontent.local
Buy and sell gear on Skyads.aero