Sky have released their new freestyle training wing, the Kooky. It's ideal to learn on, but loaded up it becomes a dynamic wing for experienced acro fiends.
Its designer, acro world cup winner Juan Salvadori, writes:
"Creating a wing such as an acro trainer was actually more demanding than creating a world cup acro winner. Kooky needed to be more subtle but powerful enough. I wanted to give the pilot plenty of time to enter and exit manoeuvres, to allow for mistakes in the learning process. It needed to easily make the manoeuvres whilst communicating to the pilot how they are made. And it needed to be powerful enough to make all the big manoeuvres so that the pilot can progress all the way with Kooky. My relatively low wing loading formula was just one of the magic ingredients to make all this possible with Kooky."
Test pilot and acro instructor Thomas Kuhne says the Kooky can do all acro manoeuvres including infinity tumbling, and fly thermals too, making it his "ideal all-mountain wing". He adds that because the Kooky can perform manoeuvres at relatively low wing loadings, it's easier to get the timing right and simpler to perform.
The Kooky is available in three sizes, 18, 20 and 22m², and three colours.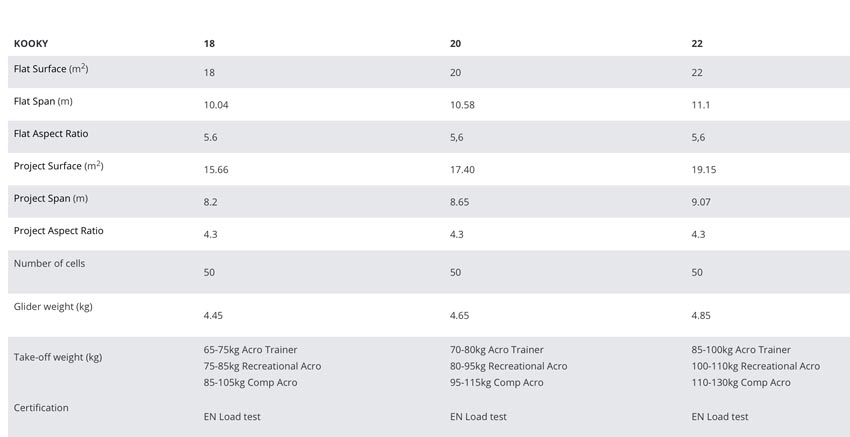 Never miss an issue
Our subscribers receive 10 issues a year, the annual Travel Guide and exclusive access to competitions and offers
Subscribe today