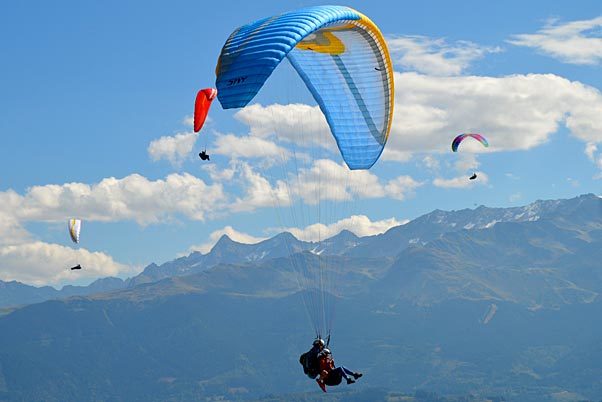 Sky's latest tandem, the Apollo Bi, is an EN-C glider for cross-country pilots. 
It's part of Sky's Sport-Line of wings, and is intended for the recreational rather than the commercial market, so the design priorities were different than for the Metis 3. Designer Alexandre Paux explains:
"Traditionally, when I create a tandem glider, I pay a lot of attention to making it very suitable for the commercial pilots. That is to say I design in specific characteristics such as super easy take-off and landing and a roll rate which must be easy on the passengers stomach.
"The priorities when designing a performance tandem such as Apollo Bi, are quite different. The Apollo Bi is built with the ability to be flown far and comfortably for many hours at a time. That means lighter handling, larger speed range, better glide and more feedback from the air.
"Sure, handling is sharper and a little less forgiving than our Metis 3, and launching is a little more demanding because of the sharknose and thinner lines, but this compromise is giving the performance increase and sublime feel in the air to a very special and specific glider for the skilled tandem pilot to really enjoy and excel with."
The Apollo Bi is available in 38m² and 41m² versions, certified EN-C for 110-200kg and 125-220kg all-up respectively.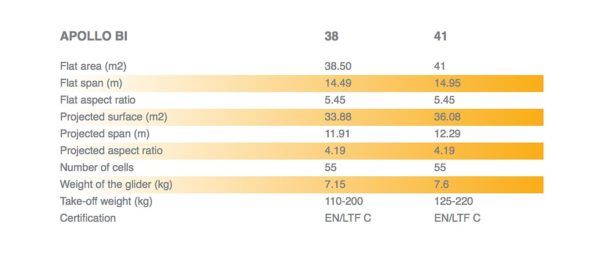 ---
• Got news?
Send it to us at news@xccontent.local.
Subscribe to the world's favourite hang gliding and paragliding magazine home
Never miss an issue
Our subscribers receive 10 issues a year, the annual Travel Guide and exclusive access to competitions and offers
Subscribe today