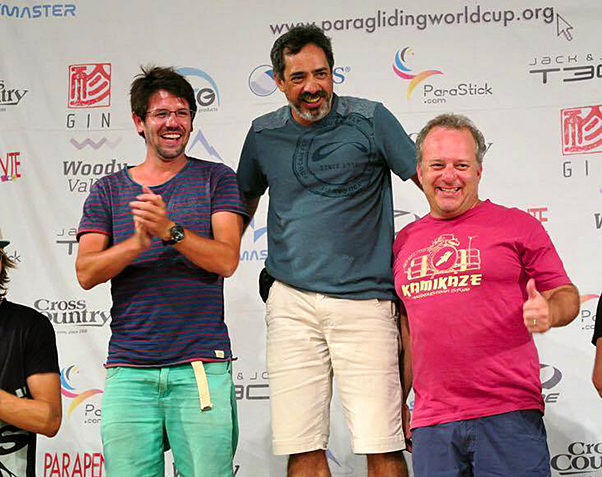 The third round of the Paragliding World Cup 2016 tour, held in Serra da Estrela in Portugal from 1 to 9 July 2016, was won by Brazilian Donizete Lemos. 
Claudio Virgilio of Portugal was second, and fellow Brazilian José Luis Guimaraes third placed – despite having won two of the tasks. All three were flying Ozone Enzo 2s.
The first-placed woman, in 50th place overall, was Keiko Hiraki of Japan (Enzo 2). She was one of only 12 women in the event which had 118 scoring pilots.
The competition was contested over four tasks, of 78km, 81.2km, 101.6km and 121.5km, but the beginning of the week saw stormy conditions in the afternoons and the first two tasks were stopped early. The last two saw 86 and 73 pilots in goal respectively.
Results
Overall
1. Donizete B Lemos (BR, Ozone Enzo 2)
2. Claudio Virgilio (PT, Ozone Enzo 2)
3. José luis s. Guimaraes (BR, Ozone Enzo 2)
Women
1. Keiko Hiraki (JP, Ozone Enzo 2)
2. Yael Margelisch (CH, GIN Boomerang 10)
3. Shauin Kao (AR, Niviuk Peak)
Teams
1. Wind (Donizete B Lemos, José luis s. Guimaraes, Rafael Saladini, Silvia de Oliveira Ventura)
2. Ozone (Charles Cazaux, Julien Wirtz, Andreas Malecki, Nao Takada)
3. Cross Country (Claudio Virgilio, Kjell-Harald Nesengmo, Nicola Domini)
Nations
1. France
2. Brazil
3. Spain
The next round in the tour takes place in St André-les-Alpes, France from 3 – 10 September.
---
• Got news?
Send it to us at news@xccontent.local.
Subscribe to the world's favourite hang gliding and paragliding magazine home
Never miss an issue
Our subscribers receive 10 issues a year, the annual Travel Guide and exclusive access to competitions and offers
Subscribe today