Cross Country Magazine 188 (April 2018) is out now and features a powerful image by US paramotor photographer Jeff Hamann on the front cover. He's flying the Imperial Dunes in Southern California during an annual desert motor race – his powered paraglider giving him a unique bird's eye view.
The magazine is packed with article on training, goal-setting, mentoring and meteorology, as well as a big dose of adventure flying and competition.
To see what's in the issue, head here!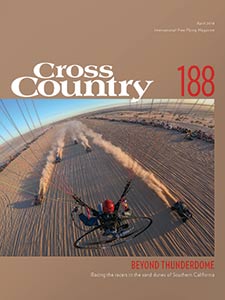 Never miss an issue
Our subscribers receive 10 issues a year, the annual Travel Guide and exclusive access to competitions and offers
Subscribe today