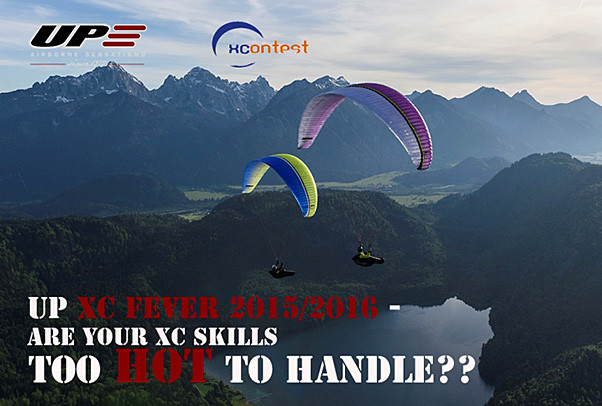 UP will be running their XC Fever paragliding cross-country competition again in the 2015/2016 season, with two brand new UP paragliders as the top prizes in the two classes.  
Scoring this time will be through XContest, a change from the previous contests which used DHV-XC, as UP say XContest is accessible to more pilots.
The contest runs from 1 October 2015 to 30 September 2015, with prizes for the top five pilots in each class and a brand new paraglider for the top-ranked pilot in each class.
There's no need to register for the event. Simply upload flights to the XContest server, and if you're flying one of the following UP gliders, you're already part of the game:
Class 1: Kantega XC2, Makalu3, Makalu Light, Ascent3, Kantega XC, Makalu2 , Ascent2 , Kantega, Makalu, Ascent, Pico.
Class 2: Trango XC3, Trango X-Light2, Trango XC2, Summit XC3, Summit XC2, Trango XC, Trango X-Light, Summit XC, Trango3, Summit2, Trango2.
Winners are the pilots with the highest total points gathered in the XContest during this time period.
OK, here are the rules:
Only flights done on one of the gliders mentioned above are included
Flights must be uploaded to the XContest server within 48h of landing
In Class 1, no flight with less than 25 points total score will count towards the total points sum. In Class 2 only flights scoring more than 50 points will be counted
In order to be able to filter the result, the software depends on your writing the glider names EXACTLY as above – otherwise it doesn't work…
And the prizes in each category:
1st place: UP paraglider of your own choice*
2nd place: UP Speedarms, t-shirt, UP cap
3rd place: Aconcagua softshell vest, t-shirt,  UP cap
4th place: Quick-packing backpack, UP cap
5th place: UP Asgaard gloves, UP cap
* Only current models as of September 2016 are available. The UP tandem glider is not part of the choice.
Prizes cannot be changed for anything else, and UP staff are not allowed to participate. The winners will be announced on 3 October 2016, and must have collected their prizes before 31 December 2016.
---
• Got news?
Send it to us at news@xccontent.local.
Subscribe to the world's favourite hang gliding and paragliding magazine home