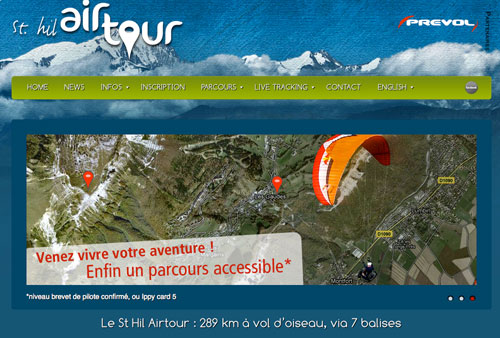 Next June, 40 paraglider pilots will embark on the St Hil AirTour, a 289-kilometre long hike-and-fly race that starts and finishes at the French hotspot of free-flight that is St Hilaire du Touvet, home of the annual Coupe Icare.
The event, which takes place from 21 – 26 June, is for "lovers of mountains, flight, effort and adventure", say organisers Prevol Parapente, a paragliding school based in Grenoble. It works in a similar way to the Red Bull X-Alps. Competitors have six days in which to make their way on foot or paraglider from St Hilaire du Touvet, in a seven-turnpoint circuit which heads south before going up to the Aravis and Lake Annecy, and finishing at the Lumbin landing field – well known to anyone who has flown at the Coupe Icare.
Each pilot will carry a tracking device that reports their position every 5 minutes and plots it, alongside denotation of whether they are curently flying, walking or resting, on a map on the St Hil AirTour website.
The video below shows the route and its no-fly zones:
Pilots nominate an assistant who can follow up to three participants, and give them route and weather advice, prepare food and organise a place to sleep, as in the X-Alps. Movement is not allowed between 9pm and 6am, so everyone gets a chance to rest.
Registration started on 1 December, and closes on 1 January 2011. 25 of the 40 available places have already been filled at the time of writing, so get your skates on if you'd like to take part.
The competition is open to pilots with French Brevet de Pilote Confirme or equivalent (IPPI 5) ratings, who must have third party insurance and a certified paraglider. Pilots must also have a helmet, reserve and GPS, although they will be given a tracking device.
You can print out the registration form from the St Hil AirTour website, and send it along with a photocopy of a medical certificate (which should be less than three months old, and state that there are no known reasons why you cannot participate in a paragliding and long-distance walking competition), with payment of 90 Euros (or 140 for a tandem pair), to the address listed on the same page. Overseas pilots are asked to contact the organisers before sending payment by bank transfer.
June 2011 update: Follow Charlie King as she races 289km through the Alps here
---
• Got news? Send it to us at news@xccontent.local.
Subscribe to the world's favourite hang gliding and paragliding magazine
home