Version 4 of Razeebuss's electric auxiliary power unit for paragliders is now on sale.

A Sup'Air Skypper pod harness with an inbuilt HPD 10 E-drive motor, Razeebuss's Radicall V4 now has a "virtual cage", which constantly moves the propeller to the best position, and cuts the engine if the angle changes dramatically.
It is fitted with the latest version of Geiger Engineering's Pi300 motor management system which greatly improves efficiency, and also has a flight recorder. Thanks to the new management system, the HPD 10 E-drive now develops 12KW of power, 2KW more than the original version, and around 70 kg of thrust at full throttle giving it an improved climb rate of around 2m/s.
The Radicall's Kokam LIPO 24 Ah battery pack is now integrated into the cockpit, and the battery management system improves safety and energy efficiency.
The technical specs are as follows:
Sup'Air Skypper harness
Built-in composite chassis
HPD12 Geiger engineering E-Drive
130cm carbon folding propeller
Flylink PIWI 2 hand throttle
Kokam LIPO 24AH battery pack Kokam with BMS (Battery Management System)
220-110 battery charger
Static Thrust : 70 kilos
Weight ready to fly, including reserve: 28kg
Flight duration at cruising altitude: 25 – 30 minutes
Climb rate: over 2m/s
Price: 12,500€ (plus taxes)
Unit ready to fight with 24Ah battety pack and Charger
Reserve not included
RRP is 12,500 EUR + tax.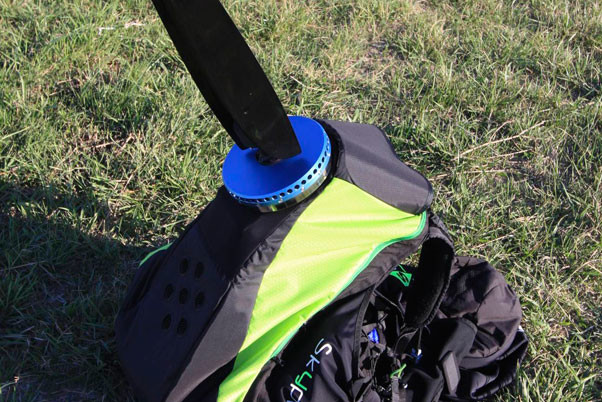 ---
• Got news?
Send it to us at news@xccontent.local.
Subscribe to the world's favourite hang gliding and paragliding magazine home
SUBSCRIBE TODAY
Learn to fly better with technique, weather and safety articles, read the latest glider and gear reviews, and be inspired with adventure and flying stories. Subscribe now and get ten issues per year, plus our Travel Guide, and entry into our Prize Draws
Subscribe today