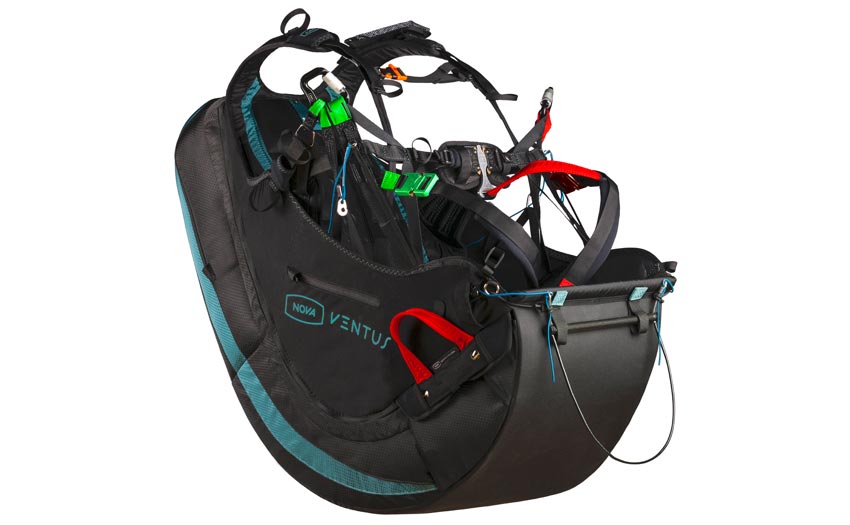 Nova officially released the Ventus, their new "uncomplicated" all-round harness, at the 2018 Coupe Icare.
It has a highly compressible 18-20cm foam back protector that protects the length of the spine, and an additional SAS-TEC viscoelastic plate that protects the upper back from hard objects, doubling up as back support for the pilot.
Nova say the reserve deployment system is very easy to use, the reserve being deployed easily when thrown from various angles (angle of deployment tests are not required for EN certification), and while the test pilot was being subjected to high forces on the G-Trainer. Nova conclude that, "In an emergency the parachute will deploy reliably and rapidly".
They say the seating geometry of the Ventus makes for a responsive harness that provides direct feedback, and its honeycomb seatplate saves weight.
The harness has a drinks bladder housing and tube routings, and an auto-locking zip on the storage compartment prevents the zip from coming open in flight (or coming more open if it was not correctly closed before launch). Colour-coded hang loops match the risers of the Prion and Ibex, and the adjustment straps can be operated in flight.
The Ventus is delivered with Edelrid Alias 2 karabiners, a carbon speedbar, a detachable radio pocket and a chest-strap protector. It is EN and LTF certified and available in three sizes, weighing from 4.4kg to 5.2kg.

Never miss an issue
Our subscribers receive 10 issues a year, the annual Travel Guide and exclusive access to competitions and offers
Subscribe today