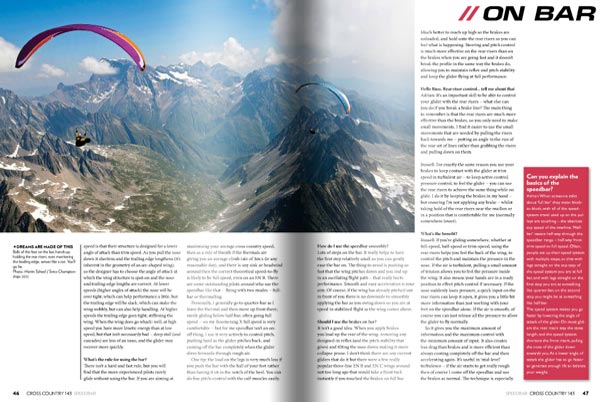 What is rear-riser control and why are people talking about it? When should it be used and why? Is it for everyone, or just a few elite pilots flying two-line race machines?
In issue 143 of Cross Country magazine we put these questions and many more like it to two people who should know.
If there is a white-coated boffin in paragliding, Adrian Thomas is it. In his day job he teaches at Oxford University, but at the weekend he turns into Superman… sort of. A competition pilot of many years standing he has been British Champion twice and flown at World and international level for years.
Russell Ogden meanwhile is the Batman of the paragliding world. We know he exists, and we know his achievements are great, but his modesty is such that you could mistake him for the new guy on the hill. That is until he takes the school glider on a 100km Alpine jaunt. A test pilot for Ozone he is currently one of the best comp pilots on the scene.
Perfect people then to answer our questions. Fortunately they're generous with their time and don't hold back any secrets.
We've taken what they told us and turned it into a masterclass about flying on speedbar, using the rear risers to control the glider, and generally getting more out of your glider to help you fly further, better and longer than before.
Essential reading in issue 143 of Cross Country magazine.
You can download your copy now for your iPad or tablet through the Zinio app, or read it on your computer.
Or you can buy a paper copy here and have it mailed to your door.
Subscribe and never miss an issue.
---
• Got news? Send it to us at news@xccontent.local
Never miss an issue
Our subscribers receive 10 issues a year, the annual Travel Guide and exclusive access to competitions and offers
Subscribe today