GIN's new Yeti 4 is a lightweight, EN-A certified mountain paraglider, suitable for hike and fly and leisurely XCs.
It's designed for simplicity, say GIN. Having only three line levels makes it simple to sort out on the ground. They say it inflates easily and evenly, even when the terrain or conditions are less than ideal. Its low stall speed gets you airborne quickly and gives a good safety margin for landings.
In flight, the company say the Yeti 4 is responsive and playful, but always co-ordinated and comfortable. The new wing shape and EPT (Equalised Pressure technology) aerofoil means the Yeti 4's glide is better than you would expect from such a stable, low-aspect wing, and the climb is "outstanding".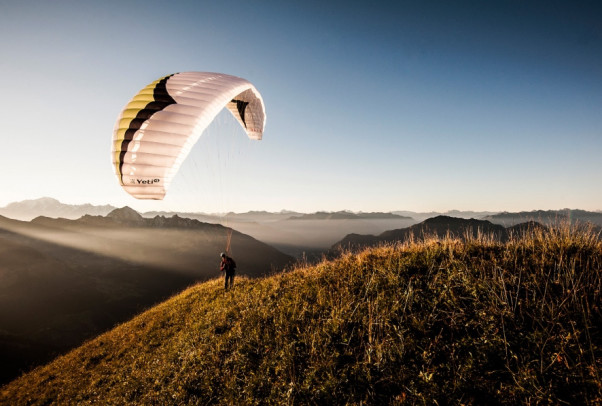 It's built from durable and lightweight double-coated Porcher Skytex fabrics and Kevlar risers. The main and mid lines are sheathed for ease of use and durability. Optional Dyneema risers save around 300g for those seeking something even lighter than the standard 3.4kg (middle size). GIN say you can expect a long lifetime for your Yeti 4 with normal, careful use.
The Yeti 4 is available in five sizes, all certified EN A. Flown in the mid to lower part of the weight range the Yeti 4 is easy and well-behaved, perfect for low-airtime pilots; When flown nearer the top of the range, GIN say experienced pilots can enjoy dynamic flying in stronger conditions.
The Yeti 4 paraglider is part of GIN's range of lightweight equipment that includes a Yeti harness, airbag and Yeti rescue.
---
• Got news?
Send it to us at news@xccontent.local.
Subscribe to the world's favourite hang gliding and paragliding magazine home