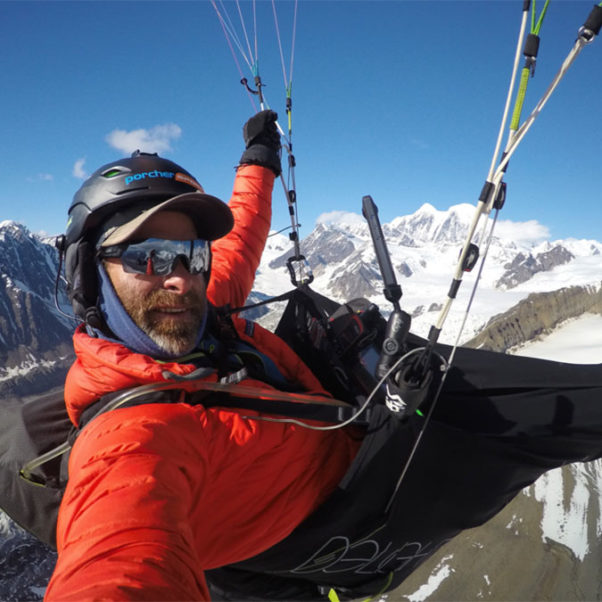 Adventure athlete and paraglider pilot Gavin McClurg will be touring the UK in partnership with Cross Country Magazine over one long weekend in April.
He will be giving two talks and screening 'North of Known', the award-winning paragliding adventure film documenting his and Dave Turner's epic trip across the Alaska Range by foot and paraglider.
In 2016 the two pilots set out on a vol-bivouac expedition that saw the pair hike and fly across the 750km length of this remote mountain range. Only three teams have ever traversed the mountain range – and after 37 days on the trail Gavin McClurg became the fourth person to do it.
The flying took them past Denali, the USA's highest mountain, across countless glaciers and through remote terrain where no paraglider pilot has flown before, and few people have ever been.
Gavin will also be leading two one-day Mountain Masterclasses at Jocky Sanderson's Flight Park in the Lake District.
Gavin is a former US Paragliding Champion, a record holder, National Geographic Adventurer of the Year 2015, a Red Bull X-Alps athlete and a prolific writer and podcaster.
50% of the ticket profits will go to the Free Flight Foundation.
Gavin will be appearing in Bristol on Thursday 6 April 2017, and at Jocky Sanderson's Flight Park on Friday 7 April.
Don't miss out, to book tickets and find out more:
Thursday 6 April: Bristol talk and screening
Friday 7 April: Lake District talk and screening
Saturday 8 April: Gavin McClurg's Mountain Masterclass: SOLD OUT
Sunday 9 April: Gavin McClurg's Mountain Masterclass
Never miss an issue
Our subscribers receive 10 issues a year, the annual Travel Guide and exclusive access to competitions and offers
Subscribe today