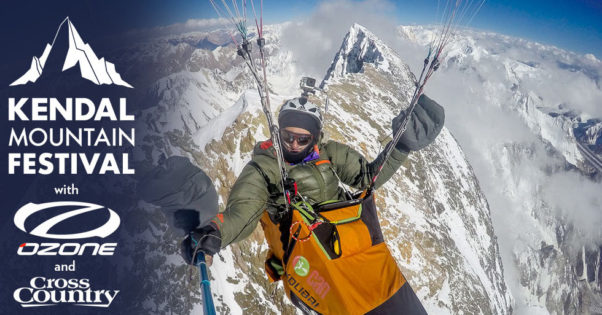 Join Cross Country Magazine, Antoine Girard and Charlie King for an evening of high altitude paragliding at the Kendal Mountain Festival on Thursday 16 November 2017.
Antoine Girard became the first person to paraglide up and over an 8,000m summit when he soared over the top of Broad Peak in 2016. He will be showing his new, 41-minute award-winning film about his month-long solo expedition through the Karakoram.
Charlie King is the first woman to paraglide solo from the summit of Kilimanjaro (5,895m) – she flew from the top of Africa's highest mountain in September 2017. She will be introducing her short film about this incredible trip.
Neither film is available for public download – this is a unique opportunity to see the films and meet the pilots.
Tickets cost £12.50 in advance. Book in advance here
The Ozone Free Flight Session at Kendal Mountain Festival is supported by Ozone and Cross Country magazine.
SUBSCRIBE TODAY
Learn to fly better with technique, weather and safety articles, read the latest glider and gear reviews, and be inspired with adventure and flying stories. Subscribe now and get ten issues per year, plus our Travel Guide, and entry into our Prize Draws
Subscribe today