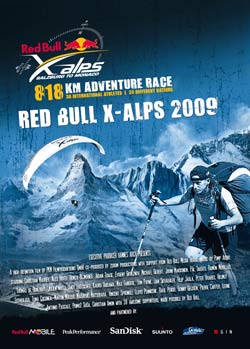 The ultimate adventure race: paragliding and running non stop for 800 km across the Alps
Finally! The official movie of the most exciting Red Bull X-Alps has arrived at XCShop.com.
As always, the film is produced to an impeccable standard. Professionally produced is an understatement, this film uses top end technology, the likes of which you'll not have seen in a paragliding film before.
But this is no ordinary paragliding film. This is the Red Bull X-Alps. So the camera is always moving, hurtling you through the Alps as though you were in a spaceship, immersing you in high definition scenery, so real you can almost feel the cold, then dropping you in on the agony and ecstasy of the athletes, so real you can almost smell the blood, sweat and tears as they slog their way along the entire Alpine chain.
As for the storyline? We'll, it's the story of the best Red Bull X-Alps race ever! Maurer's mythical flights that saw him swing along the course like a monkey through the jungle; Hofer's guile and cunning that despite two previous titles was just never enough; Coconea's frustration that led to his supporter quitting, his reserve deployment and eventual disqualification; and the 12 day epic adventure race that saw men swatted from the sky like flies and crying in the night as their feet ached like they'd been stung by bees.
This latest Red Bull X-Alps film captures it all in a stunning DVD that you will watch again and again and feel proud to show to others.
Related: Red Bull X-Alps 2009 DVD
Never miss an issue
Our subscribers receive 10 issues a year, the annual Travel Guide and exclusive access to competitions and offers
Subscribe today