In Cross Country Magazine 163 Tim-Patrick Meyer dives into deep waters and talks Sharknoses – or not – with some leading designers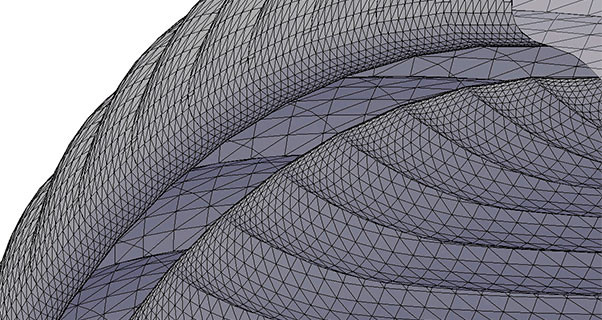 March 2011 and Ozone patented a design for the leading edge of paragliders called the Sharknose, which is said to increase a wing's resistance against collapses and stalls. Applying the Sharknose in real life for the first time on the competition wing R11, Ozone promised an increase in its usable speed of 10km/h compared to the previous R10. That meant that due to the increased stability of the wing the maximum velocity should actually be easy to handle, even in somewhat turbulent conditions.
But what exactly is a Sharknose? According to Ozone it is characterised, for one, by the cell openings being placed a bit backwards on the lower surface of the wing and not at the very front.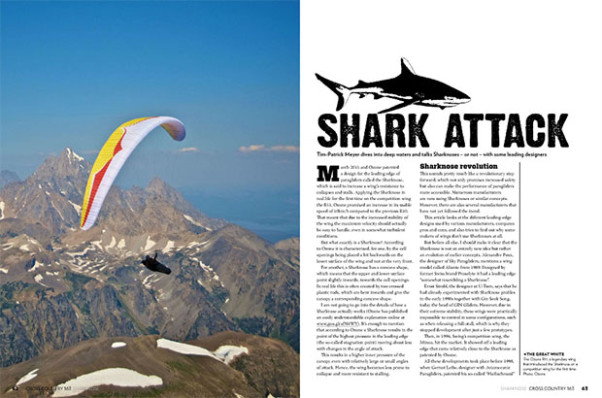 For another, a Sharknose has a concave shape, which means that the upper and lower surface point slightly inwards, towards the cell openings. In real life this is often created by two crossed plastic rods, which are bent inwards and give the canopy a corresponding concave shape.
I am not going to go into the details of how a Sharknose actually works (Ozone has published an easily understandable explanation online at www.goo.gl/afN4WY). It's enough to mention that according to Ozone a Sharknose results in the point of the highest pressure in the leading edge (the so-called stagnation point) moving about less with changes in the angle of attack.
This results in a higher inner pressure of the canopy even with relatively large or small angles of attack. Hence, the wing becomes less prone to collapse and more resistant to stalling.
This sounds pretty much like a revolutionary step forward, which not only promises increased safety but also can make the performance of paragliders more accessible. Numerous manufacturers are now using Sharknoses or similar concepts. However, there are also several manufacturers that have not yet followed the trend.
This article looks at the different leading-edge designs used by various manufacturers, compares pros and cons, and also tries to find out why some makers of wings don't use Sharknoses at all…
The full article is in Cross Country 163 (September 2015).
---
Cross Country is a reader-supported international publication and is available through subscription only. We publish 10 issues a year in print and digital. Subscribe to Cross Country.
Never miss an issue
Our subscribers receive 10 issues a year, the annual Travel Guide and exclusive access to competitions and offers
Subscribe today