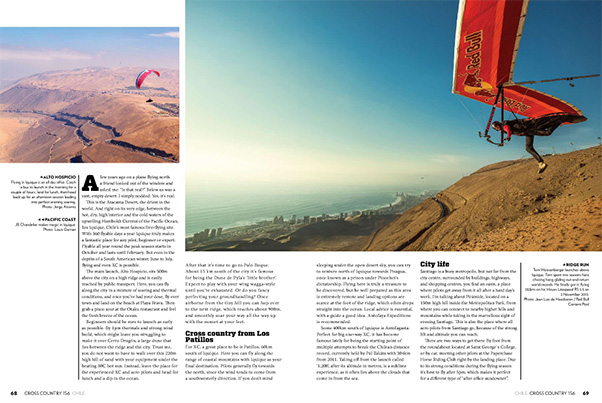 Almost 4,000km long and snaking between the Andes and the Pacific Ocean, Chile is a pilot's paradise. In Cross Country 156 (Nov/Dec) Loreto Hurtado introduces us…
A few years ago on a plane flying north a friend looked out of the window and asked me: "Is that real?" Below us was a vast, empty desert. I simply nodded: Yes, it's real.
This is the Atacama Desert, the driest in the world. And right on its very edge, between the hot, dry, high interior and the cold waters of the upwelling Humboldt Current of the Pacific Ocean, lies Iquique, Chile's most famous free-flying site.

Iquique: Paragliding for Dummies
With 360 flyable days a year Iquique truly makes a fantastic place for any pilot, beginner or expert. Flyable all year round the peak season starts in October and lasts until February. But even in the depths of a South American winter, June to July, flying and even XC is possible.
The main launch, Alto Hospicio, sits 500m above the city on a high ridge and is easily reached by public transport. Here, you can fly along the city in a mixture of soaring and thermal conditions, and once you've had your dose, fly over town and land on the beach at Playa Brava. Then grab a pisco sour at the Otaku restaurant and feel the fresh breeze of the ocean.
Beginners should be sure to launch as early as possible. By 1pm thermals and strong wind build, which might leave you struggling to make it over Cerro Dragón, a large dune that lies between the ridge and the city.
Trust me, you do not want to have to walk over this 220m high hill of sand with your equipment under the beating 30C hot sun. Instead, leave the place for the experienced XC and acro pilots and head for lunch and a dip in the ocean.
The full article is in Cross Country 156.
---
• Got news? Send it to us at news@xccontent.local
Buy and sell gear on Skyads.aero