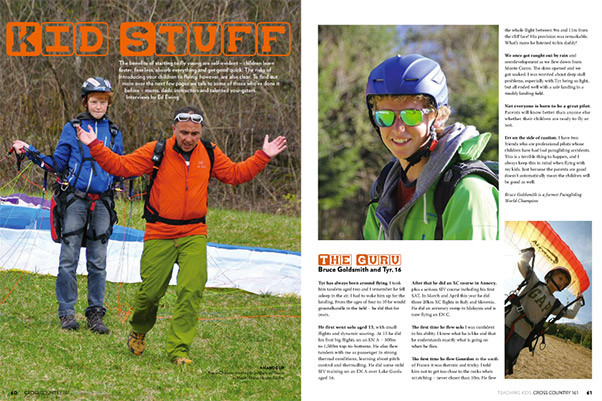 Some of the oldest heads in our sports started at the youngest age. Whether going tandem with mum or dad, ground handling a paraglider in field, or playing with model planes on a hillside, getting in early has lots of benefits.
Children learn quickly, they absorb everything, and they are keen to advance. However, the risks are obvious. No one wants their child to have an accident, and kids need proper training – often they want to progress too fast, and early ambition needs channeled well.
In Cross Country 161 (July 2015) we talk to some of those who've already done it. Tandem mums, tandem dads, kids who fly and instructors who teach youngsters.
There is no textbook when it comes to children and flight, so their collective experience is one to read if you've got kids who are yearning to follow you. Or if you're yearning to get your little sprogs into the air with you.
The full article is in Cross Country 161, July 2015.
---
Cross Country is a reader-supported international publication and is available through subscription only. We publish 10 issues a year in print and digital. Subscribe to Cross Country.
Never miss an issue
Our subscribers receive 10 issues a year, the annual Travel Guide and exclusive access to competitions and offers
Subscribe today