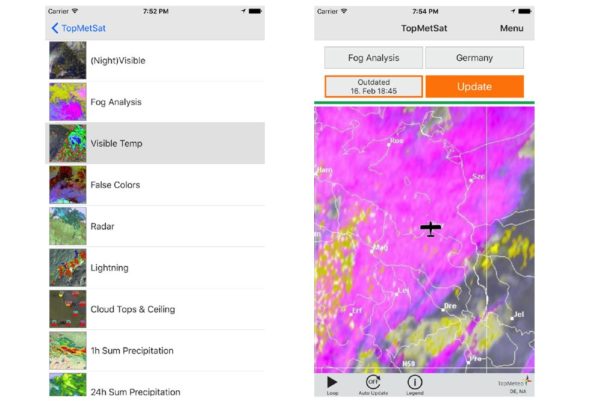 TopMeteo have released an app called TopMetSat that delivers satellite weather pictures to your smartphone while you fly.
It works in Europe and Southern Africa, and uses your regular mobile internet connection to display satellite and radar images so you could check, for instance, the level of cloud cover in your downtrack vicinity.
TopMetSat say:
The intelligent connection management allows you to download images even if the connection is bad or intermittent. In automatic mode the app persistently looks for a possible connection while you can concentrate on flying.
The app can be downloaded for free from Google Play or the App Store for Android or iOS devices. Images are paid for with a subscription, though those taken at 00, 06, 12 and 18 UTC are available to all users free of charge.
Subscription prices start at €7.90  for three days' use, to €129.90 for a year. See TopMeteo's website.
TopMetSat has been developed by aviators and for aviators, hence the focus was on providing easy to handle and safe functionality during  flight.

1. To minimise distraction, the app provides a single click feature to obtain information

2. In case of bad network coverage at higher altitudes the app will automatically try to download recent imagery at least a couple of times per hour

3. An aircraft symbol is displayed on screen at the actual position

4. Already downloaded images are stored for future online access

Our tests have demonstrated that up to 5000ft GND new satellite imagery can be reliably received. Devices with LTE option however show the best performance and the refresh rate compared to non-LTE Devices is much higher. Please make sure to enable LTE on your iOS devices.

A very useful tool is the automatic update – the app will try to constantly keep the selected image updated. In order to use this feature on iOS devices, the display must remain switched on.

Our product Cloud Tops and Ceiling is also available in TopMetSat.
---
• Got news?
Send it to us at news@xccontent.local.
Subscribe to the world's favourite hang gliding and paragliding magazine home
Never miss an issue
Our subscribers receive 10 issues a year, the annual Travel Guide and exclusive access to competitions and offers
Subscribe today