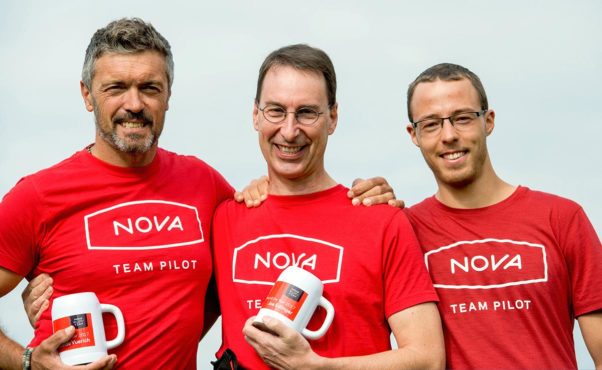 Nova have named Rinaldo Vuerich (IT), Joe Edlinger (AT) and Toni Brügger (CH) as their Pilots of the Year 2017.
Kinga Masztalerz (PO), Markus Anders (DE) and Timm Asprion (DE) were named "Newcomers of the Year".
Nova have been awarding the titles for eleven years, to team pilots who have flown well, shown commitment to the brand, good communication and enthusiasm.
Rinaldo Vuerich, 47, lives near Rome and began his season with some amazing flights in Kenya. He set some new area records in his local area and has been flying at a constantly very high level all season. Flying his Mentor 5, he completed no fewer than 29 flights of more than 100 km! His final worldwide ranking in the standard class of the XContest was no. 3 reaching 1702 points.

Austrian Joe Edlinger, 51, flew NOVA's 99-cell low-level EN B Phantom. He was already gaining many points in Brazil last November – including one flight of 435+ km. His 1773 points were enough to come in second in the XContest standard class – even though work meant he could hardly fly during the summer.

Toni Brügger, 47, from Switzerland, flew a Phantom too. He was also tied up with work and only submitted five flights to the XContest – the shortest was a flat triangle of 218 km! These flights resulted in 1433 points. This earned him the number 10 overall ranking in the global XContext and in winning in the Swiss Fun & Safety Class. On closer analysis of his flights, it's obvious that Toni loves speed and flies really efficiently. If he had been able to submit one more 200+ km flight, he would have won the overall contest outright!

Polish pilot Kinga Masztalerz lives in New Zealand and completed a number of impressive cross-country flights. She was placed no. 7 woman in the global XContest. She also did a number of vol-biv trips (some even solo), won the women's class of the New Zealand championships and set a new national kiwi record. Kinga, 31, only began flying in 2014. She flies a Mentor 4 light as well as a Triton 2 light.

Markus Anders (DE) has only been flying since 2015 – but impressively so! Flying a Triton 2, light he won the overall Bordairrace 2017-ranking – beating several well-accomplished X-Alps athletes. The 27-year-old German is also an accomplished cross-country ace. He was placed fourth in the sports class of the DHV XC league. He hopes that this will help him to advance to his ultimate goal: to take part in the Red Bull X-Alps.

Timm Asprion (DE) is another promising member of Nova Team. The 29-year-old has only been flying since 2014. He was ranked 17th in the DHV XC flatlands class and flew his Mentor 5 into third in the standard class.
Nova's CEO Wolfi Lechner added: "Actually, we should also have awarded Berni Pessl as Pilot of the Year again. Berni won the world-wide standard class ranking for the fourth time in succession however, we just wanted to give someone else a chance."
The winners were each presented with a voucher worth 400 euros towards their next wing, and a personalised beer mug as a memento, during the Nova Pilots Team meeting in Slovenia in October 2017.
---
• Got news?
Send it to us at news@xccontent.local.
Subscribe to the world's favourite hang gliding and paragliding magazine home
Never miss an issue
Our subscribers receive 10 issues a year, the annual Travel Guide and exclusive access to competitions and offers
Subscribe today